Botox Injections to Get Rid of Wrinkles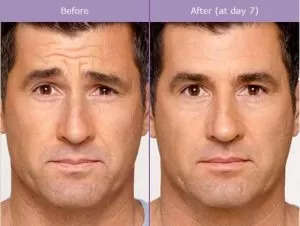 Botox Injections
Facial signs of aging such as wrinkles and fine lines become more apparent because of loss of skin elasticity as one ages. Many men and women seek noninvasive surgical alternatives for rejuvenating their face even though surgical procedures, such as facelift are affordable and available. Botox injections can be used as a tried and tested way for mitigating the early signs of aging on the face in a safe and quick manner without undergoing surgery. However, it is important to choose the right treatment provider in order to achieve safe and predictable anti-aging outcomes with Botox. EllEve Med Spa provides Botox neuromodulator injections to patients in Woodland Hills, San Fernando Valley, Los Angeles, California, and surrounding communities.
Improving Crow's Feet and Frown Lines
The FDA first approved Botox in 2002 for reducing the appearance of frown lines. Since then, it has been the go-to option for reducing wrinkles and fine lines between the brows in a non-surgical manner. It is also used for reducing the appearance of horizontal forehead lines. In 2013, Botox was additionally approved by the FDA for reducing the appearance of crow's feet around the eyes. Botox is a proven way to reduce the appearance of fine lines in eye corners. Qualified Botox injectors use the treatment for reducing wrinkles in several off-label facial areas as well. You should speak with your treatment expert about using Botox to reduce specific facial aging concerns. Botox can be used along with other dermal fillers as well.
Using Botox in Specific Facial Areas
Botox can be used with another plastic surgery or independently. Generally, Botox is combined with cheek lift, chin lift, eyelid lift, brow lift, facial fat transfer, and nose job for holistic results. Surgeons can produce better results in a less invasive manner with these combinations. These are a few areas where Botox offers maximum advantage: Eyes Dynamic lines can occur around the eyes with repetitive eye and facial muscle movements. These wrinkles are very responsive to Botox. The best part is that the treatment doesn't affect nerve sensation. It only relaxes the wrinkle causing muscle around the eye. Your upper face and eyes can appear rejuvenated with timely Botox treatments. Brows Facial expressions like laughing, frowning, and smiling can cause significant wrinkles because of repetitive movements. Botox is designed to reduce the appearance of severe to moderate wrinkles and frown lines between the brows effectively. Botox injections can also be considered by men for improving the appearance of brows. Forehead You may acquire an old, tired, and angry facial appearance with horizontal lines on the forehead. Aging effects can also result in deep forehead creases. Botox medical spa treatment can go a long way in reducing the appearance of these fine lines and wrinkles. It relaxes wrinkle forming muscles on the forehead. Jaw Contouring Botox experts have used the dermal filler for enhancing jaw contours. Significant jaw muscles can cause the face to appear square in shape. Botox can help in reshaping the jaw line to a certain degree. EllEve Med Spa receives patients from Woodland Hills, San Fernando Valley, Los Angeles, California, and nearby areas for Botox facial anti-wrinkle injections.
Contact EllEve Med Spa in Southern California
For more information on procedures and treatments at EllEve Med Spa please contact us at (747) 777-5007 in Woodland Hills California.
Located in Woodland Hills a neighborhood in the San Fernando Valley region of Los Angeles County. We welcome all patients from Calabasas, Canoga Park, Hidden Hills, Pacific Palisades, Reseda, Tarzana, Topanga, West Hills, Winnetka and other Southern California surrounding communities.