Skincare Treatments
EllEve Med Spa has partnered with Celeste Rodrigues Skin Care to bring you the latest skincare treatments! Trained by Celeste, our in-house aesthetician is now providing the following treatments.
Enjoy $50 off your first treatment during the month of August, 2021!
Hydra-Facial – $250
50 MINUTES
This treatment has been designed to control bacteria, halt excessive production of sebum (oil), decongest pores, reduce inflammation and redness, discourage future bacteria outbreaks, and promote healing of aggravated and acneic skin.
Resurfacing, "Vortex-Infusion" system that restores youthful, healthy skin by providing deep cleansing, exfoliation, extractions, and hydration all-in-one! The power "Hydro-Peel" tip gently removes surface damage caused by dead skin cells and environmental impurities, while simultaneously infusing the fresh skin with antioxidants, peptides, and hyaluronic acid.
Tone & Tight Booster: Minimizes signs of aging and recharges skin with a patented combination of peptides.
The Glow Booster: Minimizes the appearance of fine lines and wrinkles to restore skin health and vitality.
Pigmentation Fighter Booster: Minimizes the appearance of dark spots and sun spots for an even complexion.
---
The Works $350
90 MINUTES
This invigorating treatment includes all the luxurious essentials of the HydraInfusion for your face, neck and décolleté. It begins with HydraInfusion 4-in-1 process, our secret weapon for wrinkles, hydrating your lips, lightening up pigmentation and infusing our amazing growth factors to turn back the hands of time. This treatment includes a micro-current treatment to lift and tone facial muscles. The treatment also includes Multi-Peptide peel off jelly mask, followed by LED light therapy.
---
Chemical Peels
30 MINUTES
The Perfect Peel $350
VI-Peel $350+
Cosmelan MD $1200
*All peels include post-care product and a post peel facial treatment performed 2-4 weeks after the peel to cleanse, exfoliate & hydrate the skin.*
---
Celeste Rodrigues Skin Care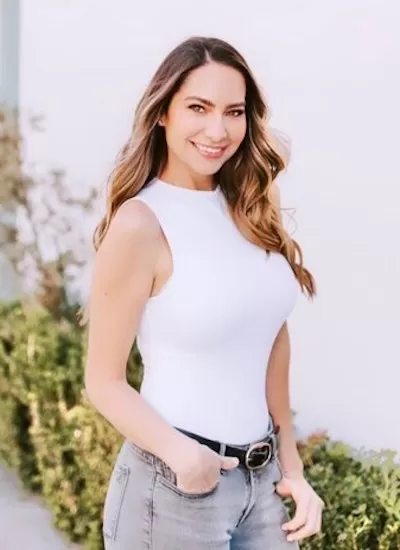 Meet Celeste
Celeste is a trusted and sought-after skincare expert and aesthetician loved by celebrities, editors, bloggers, and skincare obsessives everywhere. As a licensed medical aesthetician trained by some of the best plastic surgeons in Beverly Hills, she has 10 years of experience with top celebrity clients.
Celeste's passion for skincare keeps her on top of her game with the latest and most innovative treatments as she continues to further her education as an expert in her field.
Knowledgeable about putting together the right treatments and regimens for each client's specific needs, Celeste gets her clients results—the day they leave her office and continuing month after month.