Improve Skin Tone And Texture With Mesotherapy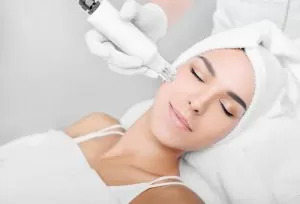 Mesotherapy
The desire to get glowing and healthy skin is never-ending. Beauty industry's abundance of products and procedures can become overwhelming, especially with the promise of amazing results. However, there are certain techniques that can actually provide the skin you desire. For instance, mesotherapy can revitalize and tighten the skin through a series of injections. EllEve Med Spa provides mesotherapy for improving skin tone and texture to patients in Woodland Hills, San Fernando Valley, Los Angeles, California, and surrounding communities.
Skin Revitalization with Mesotherapy
'Meso' means middle and mesotherapy procedures involve thin needles for administering injection in the skin's middle layers. Your therapist will inject vitamins, hormones, and enzymes in the skin using a thin needle for tightening and revitalizing the skin. The aim of the treatment is to address skin deterioration's root causes, such as poor circulation and inflammation. Mesotherapy was created to help people suffering from discomfort because of medical issues. It is a popular procedure is cosmetic dermatology for removing fat. Mesotherapy is frequently used as a substitute for liposuction. It is used for treating a wide array of skin problems, such as skin tightening, pigmentation, lines and wrinkles among others. It can also be used for tightening drooping skin in the neck, face, and arms.
This medical spa therapy is mainly used for neck and face skin rejuvenation, whitening, tightening and wrinkle reduction. Mesotherapy is a preferred choice when it comes to non-surgical treatments.
Mesotherapy Skin Rejuvenation Benefits
Mesotherapy is a reliable treatment option for achieving a healthy and glowing look with plant-based remedies that nurture the skin from within. A typical mesotherapy cocktail nourishes, heals, and renews the skin through numerous active components. The treatment is a preferred cosmetic procedure for improving the skin tone and texture.
Improved skin appearance
Mesotherapy medical spa treatment is recommended for individuals that want that extra glow on their skin, particularly in the neck and face area. It helps with patches, age spots, and discoloration. The treatment levels out the skin and brightens it while stimulating the production of collagen and elastin that restores suppleness in the face.
Provides nutrients
Mesotherapy nourishes the skin with serums, vitamins, and other nourishing combinations of effective components. These are directly administered in the skin to make it feel invigorated and fresh. Mesotherapy ensures adequate administration of nutrients when performed by a professional.
Addresses various skin needs
You get personalized nutrients for the skin whether you want to increase skin brightness or are seeking an anti-aging remedy for your face and neck. Your skin will receive an energy boost with benefits seen long after the treatment.
Hydrating
Mesotherapy works to increase moisture in the skin making it look tight, full, and healthy.
Cost-effective alternative
Mesotherapy is a less intrusive procedure as compared to cosmetic surgery. It is also a cheaper alternative to expensive procedures for anti-aging. You can obtain healthy and natural looking skin with enriched serums administered in the skin using needles. EllEve Med Spa receives patients from Woodland Hills, San Fernando Valley, Los Angeles, California, and nearby areas for mesotherapy to improve skin tone and texture.
Contact EllEve Med Spa in Southern California
For more information on procedures and treatments at EllEve Med Spa please contact us at (747) 777-5007 in Woodland Hills California.
Located in Woodland Hills a neighborhood in the San Fernando Valley region of Los Angeles County. We welcome all patients from Calabasas, Canoga Park, Hidden Hills, Pacific Palisades, Reseda, Tarzana, Topanga, West Hills, Winnetka and other Southern California surrounding communities.