What is Ultherapy – Non-Invasive Skin Tightening?
Ultherapy – Non-Invasive Skin Tightening
Ultherapy is an ultrasound-based, highly innovative procedure for women and men who want to achieve tighter, firmer, and more youthful looking skin in a completely non-invasive manner. The ultrasound waves generate controlled thermal energy that goes into the deeper skin tissue to trigger the product of body's natural collagen and elastin fibers. This creates more sustainable and natural looking results without involving any cuts, incisions, or downtime. Ultherapy holds the distinction of being the sole FDA cleared non-surgical procedure to lift the chin, neck, and brow, and diminish wrinkles and lines on the upper chest. EllEve Med Spa provides Ultherapy non-invasive skin tightening treatments to patients in Woodland Hills, San Fernando Valley, Los Angeles, California, and surrounding communities.
Dual Benefits of Ultrasound Technology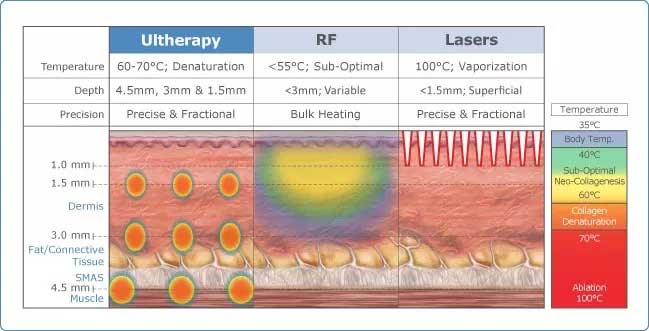 Ultherapy leverages the double benefits of ultrasound technology to provide a completely non-invasive medical spa solution for skin tightening. The gentle, controlled heat generated through ultrasound goes deeper into the skin tissue compared to other non-invasive treatments. This allows for greater collagen stimulation and more effective outcomes. At the same time, the ultrasound imaging technology allows the Ultherapy expert to see the deeper tissue layers that they are treating. This helps them deliver the maximum energy to the areas that need it the most. So, you receive optional results without experiencing any damage to the surrounding healthy tissue.
Areas of Treatment
The FDA has cleared only Ultherapy for the non-invasive lifting of the loose skin on your neck, below your chin, and on the brow and forehead. The medical spa procedure also works effectively to improve moderate wrinkles and fine lines on the décolletage (upper chest area). With more than one million Ultherapy treatments successfully administered worldwide, the procedure is recognized as one of the safest and most effective non-surgical skin rejuvenation options today.
How does Ultherapy Work?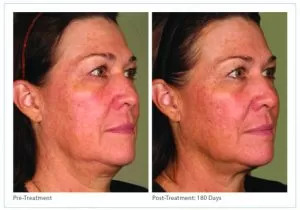 Collagen is a natural protein in the human body that provides the skin its youthful appearance by keeping it toned and firm. However, with aging, sun exposure and environmental factors, the collagen fibers begin to disintegrate. This leads to a loss of skin elasticity, causing wrinkles, creases, and fine lines. This is where Ultherapy comes in to provide a subtle lift to the skin using ultrasound wave energy. Unlike radio frequency, laser energy, or surgical procedures, Ultherapy bypasses the top surface of the skin. It directly targets the deeper tissue at the required depths and at the right temperature levels. The result is that the natural collagen formation begins from inside, leading to more sustainable and youthful looking skin.
When will the Results become Visible?
Ultherapy is not a superficial treatment, so you may not see the full results immediately. The new collagen will form gradually over a period of two to three months, and you will begin to notice firmness and a lifted appearance on the chin, neck, and brow. The upper chest skin will also become smoother. Results are likely to continue to improve for up to six months, and may last for at least a year or more. EllEve Med Spa receives patients from Woodland Hills, San Fernando Valley, Los Angeles, California, and nearby areas for Ultherapy non-invasive skin tightening.  
Contact EllEve Med Spa in Southern California
For more information on procedures and treatments at EllEve Med Spa please contact us at (747) 777-5007 in Woodland Hills California.
Located in Woodland Hills a neighborhood in the San Fernando Valley region of Los Angeles County. We welcome all patients from Calabasas, Canoga Park, Hidden Hills, Pacific Palisades, Reseda, Tarzana, Topanga, West Hills, Winnetka and other Southern California surrounding communities.