Acne Treatment Options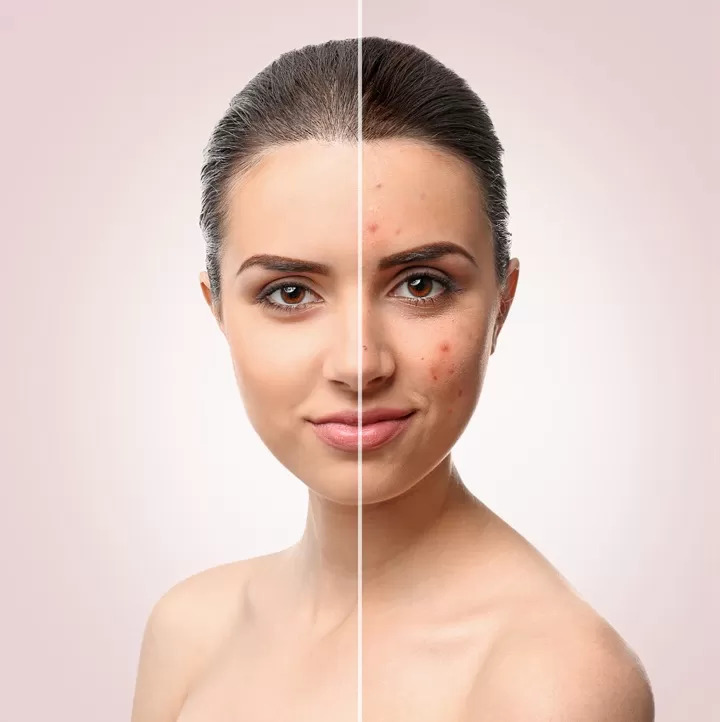 Acne Treatment
Acne occurs when hair follicles in the face get plugged with dead skin cells and oil. It is frustrating to have active breakouts on your face. However, acne scars can be even worse. The sunny news is that you can prevent acne to a significant extent and many types of acne scars are treatable as well. At your initial consultation, discuss your acne treatment options with your medical spa expert based on your specific skin type and acne condition. EllEve Med Spa provides acne and acne scar treatments to patients in Woodland Hills, San Fernando Valley, Los Angeles, California, and surrounding communities.
Xeo Skin Revitalization Therapy
This is a 2 or 3 stage procedure that is designed to address acne and other aesthetic issues. It combines Limelight IPL, Laser Genesis, and Titan Skin Tightening. Each individual treatment is effective. However, when they are combined you get even better results in a condensed number of sessions. This helps you save money and time. The 2D Revitalization Therapy combines any two of the above mentioned procedures while 3D Revitalize Therapy involves all three.
Laser Treatments
This is a light-based gentle skin care procedure for rejuvenating facial skin and smoothing out all flaws, such as scars from acne. Laser based medical spa treatment can restore youthful and soft skin without any incisions, cuts or needles. Thousands of microscopic perforations are created in the targeted area in this treatment. There is zero damage to the surrounding tissue. Laser light penetrates the targeted area gently at a superficial level with tiny thermal channels. Fresh generation of collagen is caused which helps in adding volume to the skin and making scars fade away.
IPL Photofacial
This is one of the more popular treatments for improving facial skin and reducing the appearance of imperfections, such as scars. IPL energy heats the skin gently, which causes collagen and blood vessels to constrict beneath the epidermis. New healthy skin cells are formed which replace the scar cells. Enlarged pores is also filled up and smoothed out with new collagen growth.
RF Microneedling
Microneedles of the size of a hair's diameter are used in RF microneedling. These needles are used for delivering energy into the deep layers of the skin. Energy within a safe radiofrequency range reach the collagen and elastin fibers easily. Polarity energy is delivered which creates arcs between the microneedles. This allows for remodeling of the skin without any downtime. Major portion of the energy reaches the dermis at mid-level. This is where the collagen fibers are present. It also brings about a unique restructuring of the damaged areas. Collagen layer gets stimulated which allows for skin restoration.
Cosmelan Peel
Highly potent depigmentation agents are present in the cosmelan peel. These can be used for preventing hyperpigmentation, freckles, melasma, and other skin problems. There are two stages to cosmelan peel therapy. Visibly damaged outer layer is treated in the first stage. Melanocytes are targeted in the second stage. Your skin becomes smoother and suppler after the treatment. There is visible difference in acne scars as well. EllEve Med Spa receives patients from Woodland Hills, San Fernando Valley, Los Angeles, California, and nearby areas for safe and proven acne and acne scar treatments.  
Contact EllEve Med Spa in Southern California
For more information on procedures and treatments at EllEve Med Spa please contact us at (747) 777-5007 in Woodland Hills California.
Located in Woodland Hills a neighborhood in the San Fernando Valley region of Los Angeles County. We welcome all patients from Calabasas, Canoga Park, Hidden Hills, Pacific Palisades, Reseda, Tarzana, Topanga, West Hills, Winnetka and other Southern California surrounding communities.