AviClear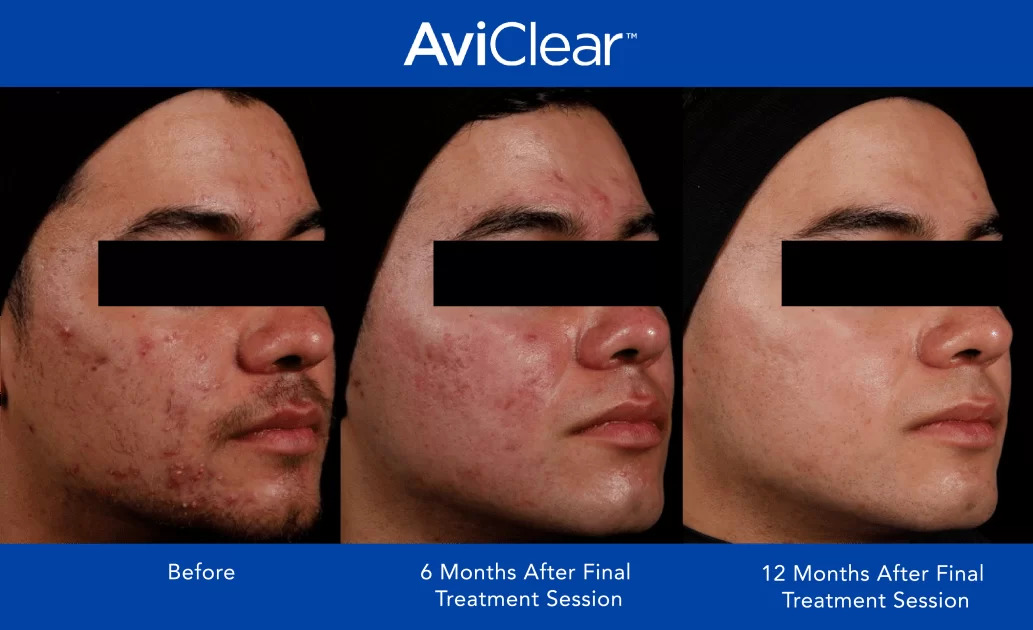 Suffering from acne is one of the most frustrating things one can go through. What used to be common to break out in your teens is now bleeding into our adult years. With the quality of our foods declining, contaminated water, poor air quality, and daily stressors, it feels at times that no matter what we do to get the acne under control, it's not enough.
For those that have lived with chronic breakouts, the most popular suggestion made by Dermatologists is prescribing Accutane and since the beginning of Medical Aesthetics, we have never been able to treat patients that suffer with severe acne while on Accutane due to how aggressive it is on the body/skin. Now don't get me wrong, It truly has done wonders for many people, but it does require consistent monitoring by your medical provider with high risks of short/long term side effects. This acne medication is so powerful, that we have to wait 6 months to be able to start doing lighter treatments like facials and lasers!
There are various modalities that we at EllEve Med Spa use to treat active acne; Medical-Grade Facials, Chemical Peels, Exosomes, and Laser Genesis are fantastic treatments that help calm down inflammation, reduce redness, minimize pore size, and kill bacteria. Majority of our clients have seen a huge success from these treatments, especially when used in conjunction with our Pharmaceutical-Grade Skincare from SkinCeuticals, iS Clinical, and Alastin.
Though we have had great success with improving the lives of our acneic patients, there are those that still suffer from stubborn, severe acne with minimal improvements. These patients do everything by the book, are the most dedicated with their treatment plans, and have been patiently waiting for the next best treatment to arrive.
Well, it's here, we are experiencing a new treatment that will change lives, and we are thrilled to announce the arrival of AviClear by Cutera.
AviClear is the first and only FDA-cleared device for the treatment of mild, moderate, and severe acne. This laser treatment works differently, and is the only laser that specifically targets the oils (sebum) on your skin. After your treatment you will begin to produce less oil and your acne will start to improve. We have had the honor of treating a few of our first acne patients with this device and are speechless at how quickly the oil production starts to slow down and the existing acne clearing away.
This treatment is very comfortable due to its AviCool sapphire skin cooling system that helps to alleviate the slight heat from the laser. It has a very similar feeling to our Laser Hair Removal since both machines are designed by the same company! There is no downtime with this treatment and it only takes 30 minutes.
Our AviClear protocol is great for all skin types, all ages, and can be done WHILE YOU ARE ON ACCUTANE. This is the ONLY laser and Medical-Grade treatment that can be done while you are still on medication. This is revolutionary in so many ways.
"In their clinical studies 87% of patients saw at least half of their acne clear at six months after their final session." The best part about this treatment is that after your initial 3 treatments, your results continue to improve month after month, year after year. YES, you read that right, their studies are showing continued improvement in the overall health of their skin 2 years after their initial 3 treatments.
When we say that this is life changing, we truly mean it, and we would LOVE to have you come in to meet with our amazing Irina, FNP and founder of EllEve Med Spa to see if you are a candidate for this treatment.
Get Pre-Approved for special finances with Cherry and/or Care Credit