CHEMICAL FACE PEEL OPTIONS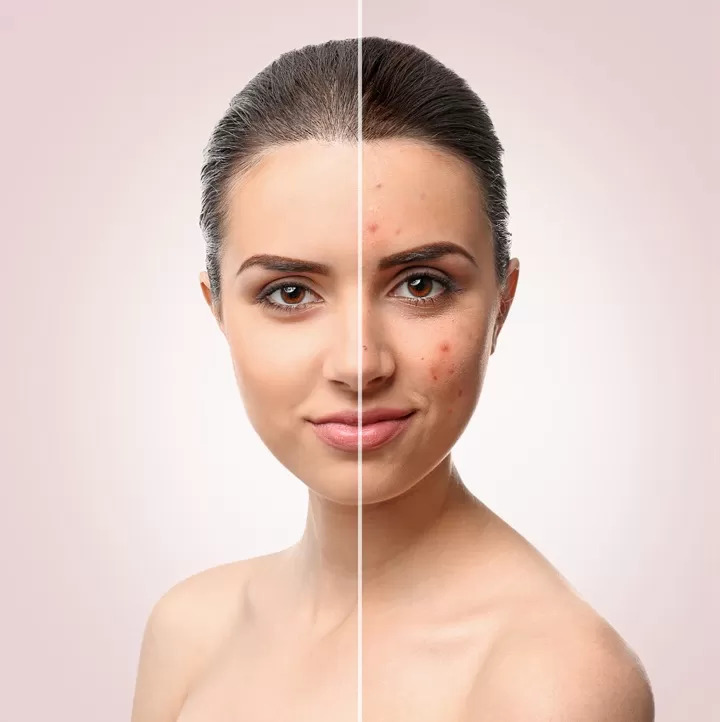 Chemical Peel
Chemical peels ranks among the more popular non-surgical facial rejuvenation treatments today. EllEve Med Spa provides strong, medium, and light chemical peel treatments to patients in Woodland Hills, San Fernando Valley, Los Angeles, California, and surrounding communities.
The VI Peel
There are multiple concerns where facial skin is concerned. These include sun and wind exposure, aging effects, hyperpigmentation, acne, acne scars, enlarged pores, redness, and dull tone or texture. Single-acid chemical peels are without the versatility of treating multiple conditions. The VI Peel is a blend of five different types of acid that can target primary and secondary skin conditions in a simultaneous manner for providing deeper and natural looking results. 5-in-1 Action of the VI Peel The Vi-Peel medical spa treatment consists of five proven and safe skin rejuvenation acids for providing multiple skin benefits.
Retionic Acid: This potent acid penetrates deep into the skin layers for promoting cellular turnover. It inhibits production of excess melanin for reducing pigmentation.
Trichloracetic Acid (TCA): This acid used for combating facial signs of aging through skin exfoliation. It triggers new collagen fibers for smoothing the aging lines.
Salicyclic Acid: The acid works towards suppressing excess sebum production. It cleanses clogged pores and eliminates harmful bacteria for preventing skin inflammation and acne.
Ascorbic Acid: This powerhouse antioxidant is helpful in correcting facial skin damage caused by free radicals to help restore a smooth skin texture and radiant complexion.
Phenol: The VI peel has a secret ingredient – Phenol. It will numb the targeted areas in the face to ensure you feel no discomfort during peel application.
The Cosmelan Peel
Dark blemishes have become commonplace whether caused by facial blemishes, continuous sun exposure or other melanin related general imperfections. The Cosmelan Peel is one of the most powerful skin lightening therapy. It is a multi-ingredient and unique chemical procedure that is designed to significantly reduce areas of skin discoloration and hyperpigmentation. The Cosmelan Peel medical spa treatment can address all types of pigmentation, including senile lentigo, solar lentigo, freckles, post-inflammatory pigmentation, and melasma. Benefits of the Cosmelan Peel These are a few benefits of the Cosmelan Peel:
Treats all types of pigmentation and melasma
Provides cellular renewal and turnover with retinoic acid
Compatible with dark and light skin types
Effective for acne patients
Quick results in just two weeks
All-year round treatment
How Does the Cosmelan Peel Work? Cosmelan Peel reduces surface pigment and is followed by a unique skincare routine for reducing pigment over the next 3 months. The peel reduces melanin overproduction at the source level. The Cosmelan Depigmentation treatment is safe for all skin tones and ethnicities. People looking for even and fresher complexion make ideal candidates. Patients can notice skin blemishes fading away in just a week. They will see brighter complexion break through after that. The skin will get a healthier and shinier glow right after a few weeks. The results continue improving even further over the following weeks when the complete benefits of the treatment can be seen. EllEve Med Spa receives patients from Woodland Hills, San Fernando Valley, Los Angeles, California for safe and proven cosmetic peel treatments.
Contact EllEve Med Spa in Southern California
For more information on procedures and treatments at EllEve Med Spa please contact us at (747) 777-5007 in Woodland Hills California.
Located in Woodland Hills a neighborhood in the San Fernando Valley region of Los Angeles County. We welcome all patients from Calabasas, Canoga Park, Hidden Hills, Pacific Palisades, Reseda, Tarzana, Topanga, West Hills, Winnetka and other Southern California surrounding communities.