Exosomes vs. PRP: Which is better for patients who don't want to draw blood?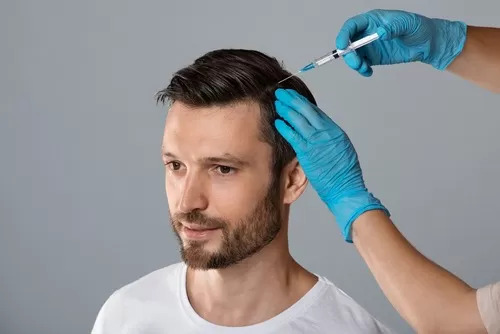 Exosomes and
PRP (platelet-rich plasma)
are both popular treatments for various medical conditions. But what if you don't want to draw blood? Is exosomes a good replacement for PRP? In this blog post, we'll discuss the differences between exosomes and PRP, and how to decide which one is best for a patient who does not want to draw blood.
EllEve Med Spa provides Exosomes  to patients in Woodland Hills, San Fernando Valley, Los Angeles, California, and surrounding communities.
What are exosomes?
Exosomes are small, lipid-bound vesicles that are released by cells in the body and contain genetic material such as DNA, RNA, and proteins. They have been found to have a variety of functions in the body, including the ability to transfer information between cells and promote tissue repair and regeneration. Exosomes have been gaining attention recently due to their potential use in regenerative medicine.
Exosomes can be collected from various sources in the body, such as blood or amniotic fluid. They can also be generated through specific treatments such as microneedling or RF microneedling. In these procedures, tiny needles are used to create micro-injuries to the skin which triggers the release of exosomes. These exosomes are then collected and used in the treatment.
How are exosomes collected?
Exosomes are small extracellular vesicles (EVs) released by cells and collected through microneedling. Microneedling is a minimally invasive procedure where tiny needles puncture the skin to create channels in order to stimulate the body's natural healing process. Exosomes can also be collected using a radiofrequency (RF) microneedling device, which combines microneedling with radiofrequency energy. Both methods cause the release of exosomes from the skin cells, which can then be collected for use in a variety of treatments. With both microneedling and RF microneedling, the area being treated is numbed with a topical anesthetic prior to the procedure. Depending on the size of the area being treated, it usually takes 30 minutes to an hour to collect enough exosomes for the treatment. The collected exosomes can then be purified and injected back into the patient's skin to help promote healing, rejuvenation, and regeneration.
What are the benefits of exosomes?
Exosomes have been found to be an incredibly effective, natural healing tool for many medical conditions and aesthetic purposes. Exosomes are most often used to improve skin tone and texture, boost collagen production, reduce the appearance of wrinkles and dark spots, and diminish scars. Many clinicians now believe that exosomes may be the single best option for skin rejuvenation. 
The main benefit of exosomes is that they are all-natural, containing no synthetic chemicals or toxins that can be potentially dangerous. Exosomes can also be collected without drawing blood, making them an attractive option for those who don't want to go through the process of having their blood drawn. 
The most common method of delivering exosomes to the skin is RF microneedling, which involves inserting tiny needles into the skin that stimulate the production of exosomes. The tiny needles create microscopic channels in the skin, allowing the exosomes to penetrate deeper and more effectively than if they were applied topically. This method has been found to be incredibly effective for skin rejuvenation, providing significant results in a relatively short amount of time.
Are there any side effects of exosomes?
Exosomes are generally safe and effective for use in regenerative medicine treatments, but like any medical procedure there is a potential for some side effects. These may include skin irritation, redness, and swelling at the injection site. In rare cases, patients may experience fever or chills, nausea, vomiting, or diarrhea. Additionally, because exosomes are made from stem cells that have been collected from a patient's body, there is a chance of an adverse immune response. However, this risk is very low, and most patients do not experience any negative side effects. Additionally, it is important to note that exosomes are a relatively new form of treatment and more research needs to be conducted in order to determine any long-term side effects.
How do exosomes compare to PRP?
Exosomes and PRP (platelet-rich plasma) have both been used as treatments for a variety of medical conditions. However, there are some distinct differences between the two that make exosomes a great option for those who don't want to draw blood. 
Exosomes are small particles released from cells in the body, whereas PRP is created from the patient's own blood. Exosomes are known for their anti-inflammatory effects and are thought to be beneficial for pain relief and tissue regeneration. In contrast, PRP has a high concentration of platelets, which helps promote healing and tissue regeneration by stimulating cell growth.
While PRP is created using the patient's own blood, exosomes can be obtained from a donor. This means that patients don't need to draw blood in order to receive the benefits of exosomes, making them an ideal choice for those who don't want to draw blood. Furthermore, exosomes are generally easier to obtain than PRP, making them a more accessible option.
Exosomes have also been found to be effective in treating chronic diseases, such as diabetes and heart disease, as well as neurological disorders such as Alzheimer's and Parkinson's. PRP, on the other hand, is primarily used for aesthetic purposes or for injuries that require tissue repair.
In conclusion, exosomes offer an ideal solution for those who don't want to draw blood but still want to benefit from regenerative treatments. Exosomes offer many of the same benefits as PRP, but without the need for a blood draw. Furthermore, exosomes can be used to treat a wide range of medical conditions, making them an effective and accessible option for many patients.
Which is better for patients who don't want to draw blood?
Both exosomes and PRP offer potential benefits for patients looking to receive regenerative treatments. Exosomes are a natural source of regenerative material that can be harvested from the patient's own body, meaning that there is no need to draw blood. This may be an attractive option for those who are uncomfortable with the idea of having blood drawn. On the other hand, PRP is produced by taking a sample of the patient's blood and spinning it in a centrifuge to separate the platelets, which then can be used in the treatment. 
When comparing the two, exosomes are better for patients who don't want to draw blood since the process does not require any blood to be drawn. However, since exosomes are still relatively new and there is still more research needed to determine their full potential, it is important to consider the pros and cons of both treatments before making a decision. 
PRP has been extensively studied and has been used in many clinical settings with great success. Therefore, it may be a better option for those who have already tried exosomes and would like to see greater results. Additionally, PRP may be able to stimulate cell regeneration and tissue growth more effectively than exosomes in some cases. 
Ultimately, it is up to the patient to decide which treatment is best for them. Both options offer potential benefits and it is important to talk to your doctor about the pros and cons of each treatment before deciding which one is best for you.
Contact EllEve Med Spa in Southern California
For more information on procedures and treatments at EllEve Med Spa please contact us at (747) 777-5007 in Woodland Hills California.
Located in Woodland Hills a neighborhood in the San Fernando Valley region of Los Angeles County. We welcome all patients from Calabasas, Canoga Park, Hidden Hills, Pacific Palisades, Reseda, Tarzana, Topanga, West Hills, Winnetka and other Southern California surrounding communities.