Facial Rejuvenation With Mesotherapy To Help Remove Acne Scarring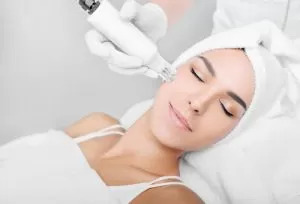 Mesotherapy
Mesotherapy procedure makes use of different injections of enzymes, vitamins, hormones, and plant extracts for tightening and rejuvenating the skin, as well as, removing excess fat. The technique was developed by Michel Pistor, a French doctor, in 1952. The treatment was originally intended to relieve pain, and has since gained popularity in the US and other countries. EllEve Med Spa provides mesotherapy for facial rejuvenation and the removal or reduction of acne scarring to patients in Woodland Hills, San Fernando Valley, Los Angeles, California, and surrounding locations.
Benefits of Mesotherapy Treatment
Mesotherapy medical spa procedure is used for:
Removing fat in areas, such as thighs, stomach, hips, buttocks, arms, legs, and face
Reduce cellulite
Fade lines and wrinkles
Tighten loose skin
Lighten pigmented skin
Recontour the body
Treat alopecia (hair loss)
Treatment Formulations
Very fine needles are used in the technique for delivering a series of injection in the mesoderm or the middle layer of the skin. Mesotherapy is based on the principle that correcting underlying issues of inflammation and poor circulation can reverse skin damage. There is no standard formula for the compounds injected in this medical spa procedure. Different solutions are used by mesotherapy experts, such as:
Hormones like calcitonin and thyroxin
Prescription medicines including vasodilators and antibiotics
Enzymes such as collagenase and hyaluronidase
Vitamins and minerals
Herbal extracts
What to Expect During the Appointment?
You may have a numbing gel applied to the skin during the treatment session. The treatment provider will use a special short needle for a series of injection. Multiple injections may be delivered in a row by attaching the needle to a mechanical gun. Injections during mesotherapy can be given at different depths ranging from 1 – 4 millimeters. This depends on the condition being treated. The doctor will place the needle at an angle into your skin and flick their wrist while injecting. Only a tiny drop of solution will be placed into your skin with each injection. Generally, it takes several mesotherapy sessions for attaining the desired effect. You may need 3 – 15 treatment sessions. In the beginning, you would need an injection every 7 – 10 days which will be stretched to once every month or two weeks as the skin starts showing improvements.
Recovery
Mesotherapy doesn't involve downtime since it is nonsurgical. You should be able to resume work almost right away. In case you have pain or swelling at the injection site, you may need to take the day off.
The Final Word
The Food and Drug Administration (FDA) has not approved mesotherapy yet. However, several ingredients used in the procedure are FDA approved for treating a wide array of conditions. The procedure is considered an off-label use for FDA approved ingredients. There is no standard formula for mesotherapy, which means you can get a completely different treatment at different medical spas. This makes it important to visit a top-rated medical spa with adequate experience for the procedure. You should ensure the treatment provider has considerable experience providing the injections. EllEve Med Spa receives patients from Woodland Hills, San Fernando Valley, Los Angeles, California, and nearby areas for mesotherapy procedure to remove or reduce acne scarring and for facial rejuvenation.
Contact EllEve Med Spa in Southern California
For more information on procedures and treatments at EllEve Med Spa please contact us at (747) 777-5007 in Woodland Hills California.
Located in Woodland Hills a neighborhood in the San Fernando Valley region of Los Angeles County. We welcome all patients from Calabasas, Canoga Park, Hidden Hills, Pacific Palisades, Reseda, Tarzana, Topanga, West Hills, Winnetka and other Southern California surrounding communities.