Facial Rejuvenation With SkinPen Microneedling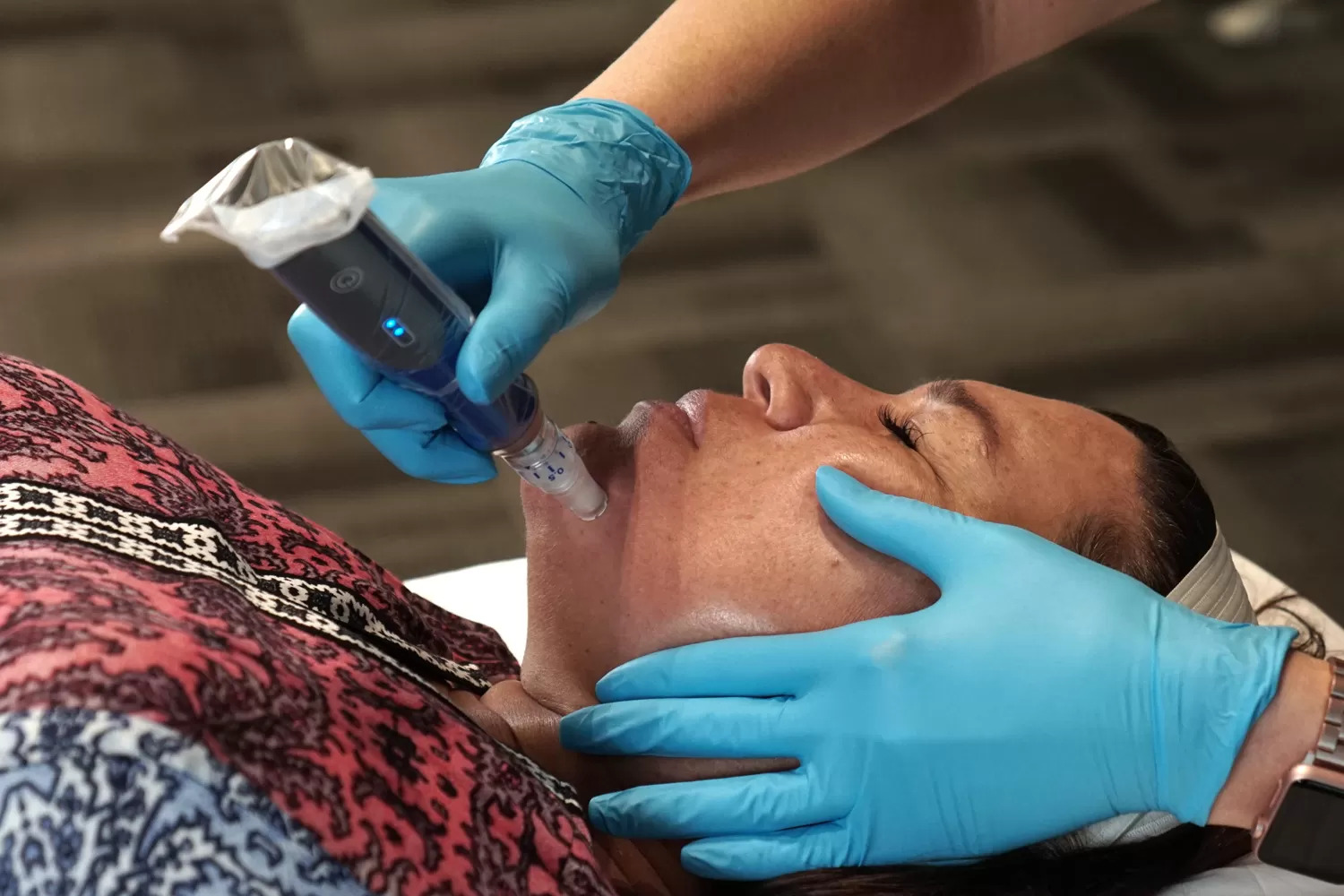 SkinPen Microneedling
Microneedling or collagen induction therapy revitalizes aging skin, reduces the signs of aging, and improves the appearance of facial acne scars. This gentle rejuvenation procedure is suitable for all candidates that want to enhance their skin appearance without undergoing cosmetic surgery. SkinPen device is an innovative microneedling device which creates controlled micro-injuries for triggering the body's natural wound healing process. These microinjuries are created in the upper skin layers for releasing growth factors and stimulating cytokines that restore elastin and collagen in the deeper skin tissue. It helps in keeping the skin younger looking and firm. EllEve Med Spa provides facial rejuvenation with SkinPen microneedling to patients in Woodland Hills, San Fernando Valley, Los Angeles, California, and surrounding communities.
SkinPen Mechanism
SkinPen microneedling device has a set of tiny needles and a motor. The needles begin moving rapidly in an up-and-down fashion when turned on. This is similar to a stamping motion. SkinPen needles are designed to cause superficial punctures on the skin without actually causing any real damage. The medical spa expert will roll the device tip on the treatment area during the procedure. The microneedles will only pierce the outermost skin layer. A series of tiny controlled wounds be created that will trigger the body's wound healing process. It will cause the skin to produce elastin and collagen fibers.
SkinPen Microneedling is Effective
Microneedling causes the body's own defense mechanism for reversing the signs of aging. The body immediately initiates the wound healing process whenever you suffer an injury, whether it is a large wound or a small scrape. The body produces connective tissues, such as elastin fibers and collagen along with new skin cells during this process for closing the wound.
SkinPen microneedling works on the same principle. It adds volume to your skin, smooths out wrinkles and fine lines, restores the skin's elasticity, improves skin texture, and reduces the appearance of scars.
Process of Wound Repair
There are three phases to the wound repairing process:
Inflammation: The immune system is stimulated when the skin is pierces. This is for disinfecting the wound and removing debris. New tissue is created because there is an increase in blood circulation.
Proliferation: New cell granulation process further repairs the wound. Temporary generation and collagen and elastin works as part of the extra-cellular matrix for wound healing.
Remodeling: The wound is replaced with rejuvenated dermal tissue and blood vessels during this phase. The temporary collagen that was produced gets replaced with a stronger Type I collagen.
SkinPen medical spa procedure can be completed in 30 to 60 minutes.
Benefits of Microneedling
These are a few benefits of SkinPen microneedling:
Can be used on all types of skin colors, including dark skin.
Depth of the SkinPen needle can be adjusted between 0.25 to 2mm. Treatment providers can use it on different skin thickness.
Epidermis is not harmed by the device. Inflammatory pathway is not stimulated either since it can cause infections and scarring.
EllEve Med Spa receives patients from Woodland Hills, San Fernando Valley, Los Angeles, California and nearby areas for facial rejuvenation with SkinPen microneedling.
Contact EllEve Med Spa in Southern California
For more information on procedures and treatments at EllEve Med Spa please contact us at (747) 777-5007 in Woodland Hills California.
Located in Woodland Hills a neighborhood in the San Fernando Valley region of Los Angeles County. We welcome all patients from Calabasas, Canoga Park, Hidden Hills, Pacific Palisades, Reseda, Tarzana, Topanga, West Hills, Winnetka and other Southern California surrounding communities.