HOW LONG DO EYELASH EXTENSIONS LAST?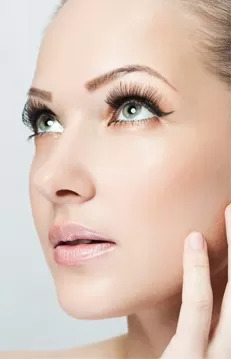 Eyelash Extensions
Semi-permanent fibers or eyelash extensions can be individually applied to each strand of natural eyelashes for getting longer and fuller lashes. They can help in enhancing the overall appearance by elongating, lifting, and opening the eye. These fibers are generally made of faux mink, synthetic, or silk. They come in a wide variety of sizes ranging from 6mm to 18mm with several options for curl widths. Most people need 80 – 150 lashes for creating natural volume. At your initial consultation, you should discuss with your treatment provider about the benefits and limitations of this procedure. EllEve Med Spa provides non-surgical eyelash extension treatment to patients in Woodland Hills, San Fernando Valley, Los Angeles, California, and surrounding locations.
Customizable Procedure
Lash extensions enhance your own natural lashes. This is because everybody has a different bone structure and face shape. Licensed and certified medical spa lash experts create customized eyelash extensions for individual clients. They make use of up to two different curvatures and 3 – 5 different lengths for a more natural appearance.
Duration of Process and Results
Application of eyelash extensions is an intricate process and may take some time depending on the desired volume. Lash extensions can last for up to 6 weeks with proper care. Extensions shed with natural hair growth that is every 6 – 8 weeks. You can extend the life of your eyelash extensions with refills every 2 – 3 weeks.
Prolonging the Life of Your Lash Extensions
Lash extensions will eventually shed regardless of what you do because they follow the natural hair growth cycle. However, there are a few things you can do to avoid premature breakage. Stay away from steam upon application. You should try and not get them wet either for the first 48 hours. You can always take a shower and wash your face. Just make sure that water doesn't touch your lashes. You should skip heavy creams and oil-based products around the eyes when you have lash extensions. Ditch mascara, especially if it is the waterproof kinds. This can be hard to remove and cause breakage. You should try not to rub your eyes, use a mechanical eyelash curler, and stand under the shower head for a long time. You can extend the life of your eyelash extensions by gently brushing them with a spoolie and applying a conditioning serum. You should use a satin or silk pillowcase to prevent snagging or drying.
Effect of Extensions on Natural Lashes
Application of eyelash extensions requires precise work around the eyes. Make sure you find a medical spa treatment provider that is trained in applying extensions. Inexperienced lash stylists can cause uneven and lumpy looking lashes. They can prevent re-growth by damaging the natural lashes. Eyelash extensions will not end up ruining your natural lashes if you get proper application. Make sure you are gentle with them while rubbing the area. Rough handling or vigorous rubbing may cause the lash extensions to pull out the natural hair they are attached to. EllEve Med Spa receives patients from Woodland Hills, San Fernando Valley, Los Angeles, California for innovative and advanced eyelash extension treatments.
Contact EllEve Med Spa in Southern California
For more information on procedures and treatments at EllEve Med Spa please contact us at (747) 777-5007 in Woodland Hills California.
Located in Woodland Hills a neighborhood in the San Fernando Valley region of Los Angeles County. We welcome all patients from Calabasas, Canoga Park, Hidden Hills, Pacific Palisades, Reseda, Tarzana, Topanga, West Hills, Winnetka and other Southern California surrounding communities.