How Vitamin IV Injection Drips Boost Weight Loss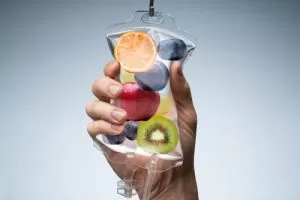 Vitamin IV Injections
Vitamin IV therapy helps in burning fat and increasing metabolism. It gives that extra boost to people trying hard to lose those few inches off their waistline. However, vitamin IV medical spa therapy is not a cure-all solution. You can make your weight loss journey more effective and easier by pairing it with adequate sleep, a healthy diet, and routine exercise. During your pre-operative consultation, feel free to ask questions about the safety and efficacy of intravenous multi-vitamin therapy treatments, and make a judicious decision. EllEve Med Spa provides vitamin IV therapy to patients in Woodland Hills, San Fernando Valley, Los Angeles, California, and surrounding locations.
Vitamin IV Therapy Boosts Energy Levels
People who are trying to lose weight push themselves hard at the gym and reduce their calorie intake. This results in low energy levels, especially when they do not take in enough nutrients and fluids. It is going to be hard to lose weight if you cannot keep up with your gym schedule because of low energy levels. By getting hooked up to a vitamin IV drip, you get all the electrolytes you need.
Allows for Better Absorption
Many people take in vitamin pills and mineral pills orally. However, this is not a very efficient way of getting your daily supplements. You only absorb about 20% of the nutrients you ingest even if the digestive system is working in excellent order. However, by getting hooked to a vitamin IV drip, your body gets to absorb 100% nutrients. You will find it easier to shed fat when your body gets all the nutrients it needs.
Improves Sleep Quality
Your body needs to work really hard for it to keep up during the day. Sleep is a terrific way for your body to prepare and heal for the next day. Vitamin deficiency may cause you to struggle to fall and stay asleep. The human body holds excess fat when the sleep schedule is irregular. You won't be able to lose it regardless of how hard you try. Vitamin IV medical spa therapy can help in restoring a healthy sleep cycle.
Workout Recovery is Quicker
Regular exercise and pushing your body to reach its limit can place the body under a lot of stress and strain. You may find it difficult to recover from your workout session if your body is deficient in vitamins, fluids, and electrolytes. You wouldn't want to go for a workout the next day if your body hasn't recuperated from the day before. Vitamin IV hydration therapy contains a customized cocktail of vitamins, minerals and electrolytes that can help you recover quicker. Your body burns fat much quicker and efficiently when it is hydrated.
Improves Adrenal Function
Adrenal glands are useful for regulating metabolism. You won't be able to burn as many calories as you want if the adrenal gland is not functioning well. Vitamin IV therapy allows the body to fight off adrenal fatigue. It also helps you get rid of excess weight. Vitamin IV therapy can help with:
Energizing
Speeding up metabolism
Burning fat
Supporting circulatory system
Supporting muscle growth
EllEve Med Spa receives patients from Woodland Hills, San Fernando Valley, Los Angeles, California, and nearby areas for safe and proven vitamin IV therapy.  
Contact EllEve Med Spa in Southern California
For more information on procedures and treatments at EllEve Med Spa please contact us at (747) 777-5007 in Woodland Hills California.
Located in Woodland Hills a neighborhood in the San Fernando Valley region of Los Angeles County. We welcome all patients from Calabasas, Canoga Park, Hidden Hills, Pacific Palisades, Reseda, Tarzana, Topanga, West Hills, Winnetka and other Southern California surrounding communities.