INTRAVENOUS VITAMIN THERAPIES: MYERS' COCKTAIL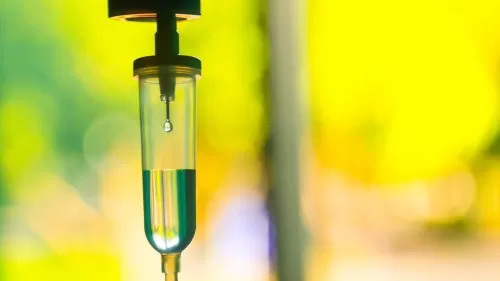 Myers' Cocktail
The late Dr. John Myers, MD created the Myers' Cocktail, which includes essential vitamins and minerals administered intravenously. The formula helped many patients of Dr. Myers find significant relief from different ailments. The "cocktail" comprises of calcium, magnesium, vitamin C, and B-vitamins (including vitamin B12). It is administered through a slow IV push to achieve maximum nutrition concentrations. These concentrations cannot be achieved with oral administration. Myers' Cocktail treatment for some patients is nothing more than a healthy dose of multivitamin that is slow pushed directly into the bloodstream. This IV nutritional regimen can show positive results for people that have difficulty absorbing nutrition from food or are unable to receive full benefits of taking supplements. EllEve Med Spa provides safe and proven non-invasive and minimally invasive cosmetic as well as health treatments to patients in Woodland Hills, San Fernando Valley, Los Angeles, California, and surrounding locations.
Benefits of Myers' Cocktail
The formula is clinically effective against migraines, acute asthma attacks, acute muscle spasms, fatigue (including chronic fatigue syndrome), colds, chronic sinusitis, fibromyalgia, chronic depression/anxiety, seasonal allergies, and a number of other disorders. Yale investigators conducted a randomized controlled study to evaluate the effects of the formula on fibromyalgia. They observed that weekly IV infusions led to significant improvements in pain, tender points, depression and quality of life. The clinically sustained improvements continued for over 4 weeks after the last IV infusion. Few patients may feel the energy boost for weeks. Pain gets decreased considerably in the case of fibromyalgia. Intravenous infusion helps with ulcerative colitis and rheumatoid arthritis as well because a "leaky gut" doesn't allow nutrients to be absorbed properly by the cells. Digestion is bypassed when essential nutrients are administered intravenously. The bloodstream has enhanced levels of these nutrients that encourage the cells to absorb them. Cells receive a temporary boost that works as a "kick-start" for them. Patients with lung diseases, chronic allergic problems, and congestive heart failure may respond well to the energy boost. Patients that are prone to illnesses may benefit from an improved immune response.
How Is Myers' Cocktail Administered?
The formula is administered through a slow-push IV. The medical spa treatment provider will insert a small catheter into the vein and administer the formula for 20 – 30 minutes. The treatment has rare side-effects, which are almost always limited to local irritation around the vein. Flushing and heat sensations are common as well because of magnesium in the cocktail. Many patients get a vitamin taste in their mouth once the infusion begins and gets absorbed by the cells. The treatment is provided 1 – 2 times a week. However, it may take at least 4 infusions before benefits can be felt. Patients with chronic ailments choose to get the infusion every 1 – 4 weeks or whenever they feel their energy is slipping. It's vital that you choose a reputable treatment provider for Myers' Cocktail. They should be prepared to monitor you during the infusions and provide a comprehensive medical history. EllEve Med Spa receives patients from Woodland Hills, San Fernando Valley, Los Angeles, California, and nearby areas for advanced and innovative cosmetic and health procedures.
Contact EllEve Med Spa in Southern California
For more information on procedures and treatments at EllEve Med Spa please contact us at (747) 777-5007 in Woodland Hills California.
Located in Woodland Hills a neighborhood in the San Fernando Valley region of Los Angeles County. We welcome all patients from Calabasas, Canoga Park, Hidden Hills, Pacific Palisades, Reseda, Tarzana, Topanga, West Hills, Winnetka and other Southern California surrounding communities.