Juvederm Dermal Filler Before And After Photos
Juvederm Dermal Filler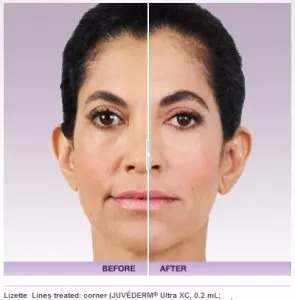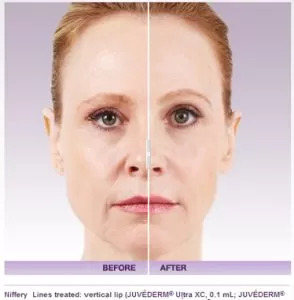 Juvederm dermal injectables provide for a noninvasive, safe and predictable approach to rejuvenating the facial skin. It helps in mitigating signs of aging on the face as well. Juvederm dermal filler in this procedure is injected into the targeted treatment areas using tiny injections to address fine lines and wrinkles. The injection provider during the pre-treatment consultation may present Juvederm before and after images to the patient. This allows patients to better understand the procedure and set realistic expectations. It also helps patients identify pros and cons of the procedure to make a poignant decision. Make sure to keep sufficient time during the consultation to review as many Juvederm before and after photographs as possible. EllEve Med Spa provides Juvederm soft tissue filler injections to patients in Woodland Hills, San Fernando Valley, Los Angeles, California, and surrounding communities.
Helps in Creating Rapport with Potential Patients
Juvederm before and after images enables the medical spa provider to develop a rapport with potential patients in a more effective manner. The images help new patients understand how the treatment works and the kind of positive changes it can bring to the facial appearance of patients. It also allows patients to imagine the type of results the dermal filler can offer them. Visual proof is always better at fostering trust and transparency between new patients and treatment provider.
Conclusive Proof Is Offered by Photos
Juvederm 'before and after' pictures will present the real story in a more efficient and effective manner. Words are open to interpretation and may seem incredulous. Barriers of language, on the other hand, don't impact images. Pictures don't exaggerate the true story. But, it's vital that the treatment provider doesn't edit or modify these images in any manner. This can become misleading to the patient. What's even more amazing is that you can see these images from anywhere in the world. That's just how it is with internet technology. You see these images without anyone you know being the wiser. You may not even want your best friend knowing what you are thinking because this is an intensely private matter. It's not uncommon when someone does not even want their spouse knowing what they are thinking when it comes to matters such as this.
Posting Images on Social Media
Universal popularity is enjoyed by social media forums in today's times. New avenues are created for sharing before and after images of Juvederm injectables. There are more than a billion active users on image sharing platforms, such as Instagram. The mass appeal of these media forums can be harnessed by dermatology and cosmetic professionals for promoting an innovative and effective facial rejuvenation procedure. Information sharing opportunities in these online sites are unforeseen. Treatment providers can educate thousands of potential patients by distributing before and after images on these channels. Digital technology has changed humankind. With images this clear it's almost possible to predict the future. This is because a patient can easily extract what they see on the screen (from their own smart phone to their large desktop) and apply it to their own situation. Gone are the days when we had to rely on picture books at brochures that only inspired us to ask more questions than before. Digital imagery has been a revelation on so many levels and for potential plastic surgery patients – a boon that continues to assist so many of us.
Ensuring Reasonable Expectations
Juvederm dermal facial filler injectables offer patients tremendous facial skin rejuvenation options. However, the results are not comparable with invasive surgeries, such as facelift. It's critical for patients to have complete clarity about the procedure before proceeding with the dermal filler injections. Patients that have realistic expectation settings tend to appreciate final outcomes in a better manner. This is where Juvederm before and after images come into play. They help patients understand the scope of the treatment and its glaring limitations. This allows them to avoid the risk of disappointment after the treatment. Treatment providers should ensure complete clarity by presenting Juvederm before and after images. EllEve Med Spa receives patients from Woodland Hills, San Fernando Valley, Los Angeles, California, and nearby areas for Juvederm facial filler injections.
Contact EllEve Med Spa in Southern California
For more information on procedures and treatments at EllEve Med Spa please contact us at (747) 777-5007 in Woodland Hills California.
Located in Woodland Hills a neighborhood in the San Fernando Valley region of Los Angeles County. We welcome all patients from Calabasas, Canoga Park, Hidden Hills, Pacific Palisades, Reseda, Tarzana, Topanga, West Hills, Winnetka and other Southern California surrounding communities.