Mesotherapy to Treat Hair Loss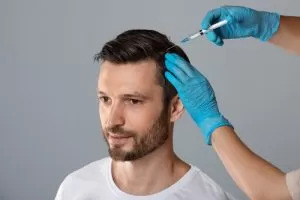 Mesotherapy
Mesotherapy is an ideal hair loss treatment since it can reduce hair thinning, a major cause of severe hair fall. The medical procedure is completely non-surgical and painless. The treatment provider will inject platelet rich plasma or stem cell serum into the scalp. The hair will grow stronger after 3 – 4 sessions. The procedure improves blood circulation in the scalp area as well and enhances hair growth while improving hair texture. EllEve Med Spa provides mesotherapy for the treatment of hair loss to patients in Woodland Hills, San Fernando Valley, Los Angeles, California, and surrounding locations.
Procedure Details
Mesotherapy directly promotes the factors responsible for hair growth. It adds proteins and vitamins in the scalp. Multiple micro-holes are made in the scalp by using an insulin syringe, mesogun, or dermaroller. Hair growth stimulating nutrients, such as stem cell serum, anti hair-loss solution, or platelet rich plasma is injected in the scalp through these micro-holes. The process increases blood supply in the scalp area and enhances cellular metabolism. It increases the growth of existing follicles, that promotes growth of new hair.
Mesotherapy for Hair Loss Benefits
In a study involving different interventions for specifically treating androgenetic alopecia in women, it was found that mesotherapy intervention was up to 54% effective in reducing hair loss. Minoxidil, a popular medication for stimulating hair growth can also be delivered to the hair follicle through mesotherapy treatment. Other ingredients that can be delivered include serums, vitamins, and plant extracts. These are a few primary benefits of mesotherapy medical spa treatment for reducing hair loss, hair thinning, and hair fall:
Direct delivery to the dermis layer
Mesotherapy is an advanced delivery system that allows for a physical and direct pathway deep in the dermis layer of the skin. Active substances can be effectively delivered to the dermis with targeted and higher precision that leads to better results.
Stimulating hair follicles
Mesotherapy stimulates hair follicles through tiny needles that triggers growth factors from keratinocytes. These are vital for promoting hair regrowth and new growth.
Painless, reliable and safe
Mesotherapy is an advanced solution assuring a painless and safe experience as compared to surgical and invasive treatments for thinning hair and baldness. The procedure is performed through controlled skin perforations. Mesotherapy is therapeutic and doesn't damage the surrounding tissues.
Enhancing scalp immunity
Mesotherapy can rejuvenate the overall scalp. Angiogenesis or the development of new blood vessels from old ones is promoted by using small, tiny needles for puncturing the scalp. The procedure promotes vasculogenesis as well, which is the creation of completely new blood vessels.
Reducing scalp inflammation
Risk of scalp inflammation is effectively reduced by mesotherapy by therapeutic enhancement of the scalp. It maintains a healthy environment for hair.
Restoring PH levels
Regular exfoliation of the scalp can restore its normal PH levels just like a facial routine. This allows for healthier and smoother scalp. Mesotherapy achieves this through scalp exfoliation. EllEve Med Spa receives patients from Woodland Hills, San Fernando Valley, Los Angeles, California, and nearby areas for mesotherapy hair restoration procedure.
Contact EllEve Med Spa in Southern California
For more information on procedures and treatments at EllEve Med Spa please contact us at (747) 777-5007 in Woodland Hills California.
Located in Woodland Hills a neighborhood in the San Fernando Valley region of Los Angeles County. We welcome all patients from Calabasas, Canoga Park, Hidden Hills, Pacific Palisades, Reseda, Tarzana, Topanga, West Hills, Winnetka and other Southern California surrounding communities.