MOLE / SKIN TAG REMOVAL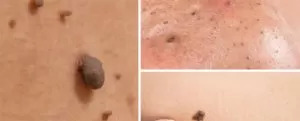 Mole Removal Skin Care
Skin outgrowths such as moles and skin tags are common in many people. They may occur on different body parts and are generally harmless. But they may be a cosmetic problem or cause discomfort when caught up in clothes or jewelry. Some moles may turn malignant over time, so it is good to have such skin growths removed.
EllEve Med Spa provides mole and skin tag removal treatments to patients in Woodland Hills, San Fernando Valley, Los Angeles, California, and surrounding communities.
Common Features of Skin Tags and Moles
Skin tags show the following characteristics:
They are soft flaps of tissue connected to the skin by a narrow stem.
Most skin tags are benign, but they may get entangled in clothing or jewelry and cause pain.
They usually occur in skin areas subject to greater friction such as the neck, folds of the breast, the armpits, the groin region, and the eyelids.
Moles have the following characteristics:
They occur more often in childhood.
They may form on any bodypart, but are more common on parts exposed to the sun.
Most moles are raised above the skin surface and are either skin colored or pigmented.
Any mole which changes in shape, size, or color or begins to hurt, itch, or ooze blood or other liquids is likely to be dangerous.
Skin tag and mole removal is a simple procedure and can be performed by a trained treatment provider at the medical spa.
How to Plan for Skin Tag and Mole Removal
When you visit a skin care expert for mole or skin tag removal, they will examine your skin and suggest the best method of removal. Talk to them and get information about the different treatment choices, results to be expected and the aftercare necessary after the surgery.
The procedure is a simple one and involves minimal downtime. Repeat treatments are generally not necessary, but if you find new skin tags or moles appearing elsewhere on your body, make sure you show them to a surgeon and have them evaluated.
Howare moles and skin tags removed
For moles rooted deep inside the skin, the surgeons make a small cut and then excise the mole entirely. They close the cut with sutures. Superficial moles or very small moles that rise from the skin surface may be simply shaved off the skin, and no sutures are necessary. Skin tag removal is commonly performed by shaving them off the skin. In somecases cold liquid nitrogen may be used to freeze the skin tag and this procedure is called cryotherapy.
These procedures do not require general anesthesia or sedation and are carried out in-office. However, you must not attempt to remove skin tags or moles at home by shaving. Always have any the skin growth examined by a medical spa expert to decide about its removal and in themanner it should be done.
EllEve Med Spa receives patients from Woodland Hills, San Fernando Valley, Los Angeles, California, and nearby areas for mole and skin tag removal treatments.
Contact EllEve Med Spa in Southern California
For more information on procedures and treatments at EllEve Med Spa please contact us at (747) 777-5007 in Woodland Hills California.
Located in Woodland Hills a neighborhood in the San Fernando Valley region of Los Angeles County. We welcome all patients from Calabasas, Canoga Park, Hidden Hills, Pacific Palisades, Reseda, Tarzana, Topanga, West Hills, Winnetka and other Southern California surrounding communities.