Myer's Cocktail IV Therapy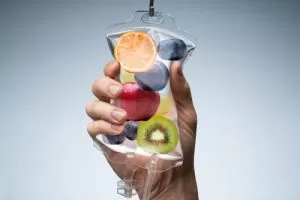 IV Therapy
Myer's Cocktail is a safe and sustainable intravenous vitamin infusion treatment that is designed to boost your immune system and mitigate the symptoms of illness such as fibromyalgia, asthma, fatigue, and fight seasonal allergies. It is a highly effective and time-tested treatment for various health conditions.
Therefore, it is recommended by many physicians and wellness experts. The procedure is named after the late Dr. John Myers who combined a wellness intravenous therapy with a unique blend of nutrients for treating acute and chronic conditions.
EllEve Med Spa provides Myer's Cocktail IV therapy to patients in Woodland Hills, San Fernando Valley, Los Angeles, California, and surrounding communities.
Conditions treated
If you are struggling with any type of acute or chronic illnesses, you can choose this proven treatment for a healthy and rapid recovery. If you approach a nutrition and wellness expert, chances are that they may recommend the use of Myer's Cocktail. Some of the medical conditions that can be treated using Myer's Cocktail are:
Chronic fatigue syndrome
Chronic sinusitis
Infections in your upper respiratory tract
Migraines
Fibromyalgia
Bouts of asthma
Acute muscle spasms
Seasonal allergies
Heart disease
How does it work?
The underlying objective of this treatment is to enhance the concentration of essential minerals and vitamins in your bloodstream. This is not possible through oral supplements. To put it into perspective, Vitamin C concentration in your blood with Myer's Cocktail IV treatment will be 50 times higher than what you will get from oral supplements. In a majority of cases, the illness that you may be suffering from can be correlated with digestive disorders such as bloating, food sensitivity, and indigestion. Inthese kinds of
conditions, nutrient absorption in your body will be poor. This results in related health problems and fatigue. The core principle behind Myer's Cocktail is to address the nutrition and digestion issues and to enhance your overall health. If you are ill, then your body is likely to see a drastic upsurge in the nutrient burn rate. In some cases, your body will need aparticular nutrient to boost your immune system and support your recovery. Myer's Cocktail IV infusion will bypass the digestive system and directly work in your bloodstream. It will enhance cellular absorption of vital nutrients, as a result of which, there will be a higher level of energy production in your cells.
Results
If you suffer from immune disorders or other chronic illnesses that have not been successfully treated by conventional treatments, then Myer's Cocktail could significantly help in improving your condition. For fibromyalgia patients, it can help in pain management. It can also address conditions such as rheumatoid arthritis or ulcerative colitis. You will also have an enhanced immunity buildup following your Myer's Cocktail IV therapy at a qualified medical spa. Myer's Cocktail infusion can also alleviate the symptoms of chronic asthma and other respiratory diseases, congestive heart failure, and chronic allergies. The treatment will help you in becoming less susceptible to infections. Your medical spa treatment provider will typically recommend you to have 1 or 2 Myer's cocktail infusions per week. You will start noticing positive changes by the time of your third or fourth visit.
EllEve Med Spa receives patients from Woodland Hills, San Fernando Valley, Los Angeles, California, and nearby areas for Myer's Cocktail IV therapy.
Contact EllEve Med Spa in Southern California
For more information on procedures and treatments at EllEve Med Spa please contact us at (747) 777-5007 in Woodland Hills California.
Located in Woodland Hills a neighborhood in the San Fernando Valley region of Los Angeles County. We welcome all patients from Calabasas, Canoga Park, Hidden Hills, Pacific Palisades, Reseda, Tarzana, Topanga, West Hills, Winnetka and other Southern California surrounding communities.