PDO Thread Lift (Mini Facelift) Before And After Photos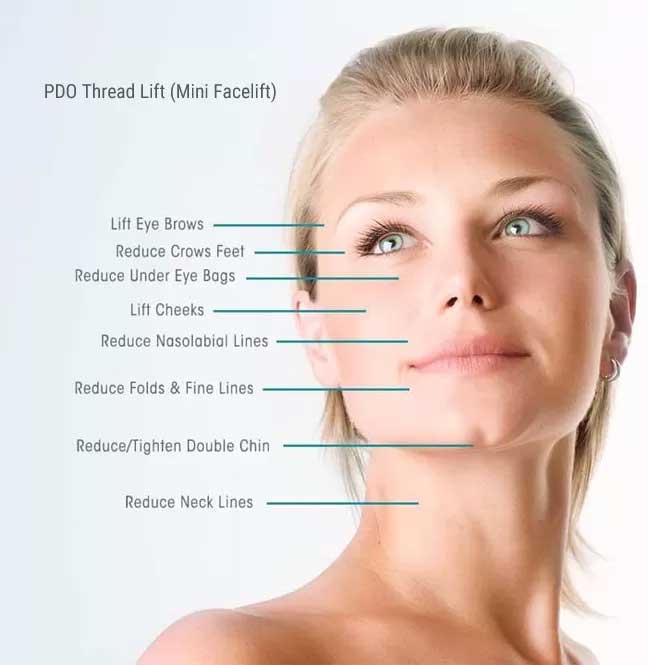 PDO Thread Lift (Mini Facelift) Before And After Photos PDO thread lift or mini facelift before and after photos refer to a set of pictures belonging to patients who have successfully undergone the procedure in the past. The set includes images taken a day before the treatment and multiple images taken after the treatment at different stages of improvement. The medical spa treatment provider will obtain these pictures with the patient's consent and retain them in the records for educational purposes. At first, the patient who has received the treatment can compare their own appearance to understand how well the PDO thread lift procedure has worked for them. Thereafter, with the patient's consent, the same pictures can be presented before new patients to provide them demonstrable evidence of what a mini facelift can or cannot do for them. EllEve Med Spa provides PDO thread lift (mini facelift) treatments to patients in Woodland Hills, San Fernando Valley, Los Angeles, California, and surrounding locations.
Keeping Reasonable Expectations
A PDO thread lift expert at a well-established medical spa would encourage the patients to have clear cosmetic goals, a positive mindset, and realistic expectations. The PDO thread lift before and after photographs can play an important role here to help the patient be realistic about the results. Now these images are not currently on the website but no worries there because they can be uploaded at any time. Moreover, any patient must have a consultation before any treatment or surgery so this is when you should ask to see these images and have it explained to you what to expect so everyone is on the same page from beginning to end. When the patient reviews these photos, they can more clearly understand what kind of skin tightening and lifting results they can achieve over a few months with a mini facelift. They can make a well-considered choice and the scope of any future disappointment is mitigated because they know exactly what they are getting. Patient satisfaction levels are often higher in cases where the med spa treatment provider has shown PDO thread before and after photos at the outset. In addition, the medical spa has an opportunity to disseminate these images to a wider audience through social media, while maintaining the patient confidentiality protocols.
A Combination of Images and Text
Sometimes it makes sense to add a short descriptive text along with the before and after pictures to explain the patient's skin condition prior to the PDO thread lift treatment and how the procedure met their unique requirements. For a new patient, it gets easier to understand the potential benefits of the treatment when clear, succinct, and informative text accompanies these photographs. While a picture itself says more than a thousand words, a short description can tell the intricate aspects of the results and make the story more interesting. EllEve Med Spa receives patients from Woodland Hills, San Fernando Valley, Los Angeles, California, and nearby areas for PDO thread lift (mini facelift) procedure.
Contact EllEve Med Spa in Southern California
For more information on procedures and treatments at EllEve Med Spa please contact us at (747) 777-5007 in Woodland Hills California.
Located in Woodland Hills a neighborhood in the San Fernando Valley region of Los Angeles County. We welcome all patients from Calabasas, Canoga Park, Hidden Hills, Pacific Palisades, Reseda, Tarzana, Topanga, West Hills, Winnetka and other Southern California surrounding communities.