PRP HAIR LOSS TREATMENT RESTORATION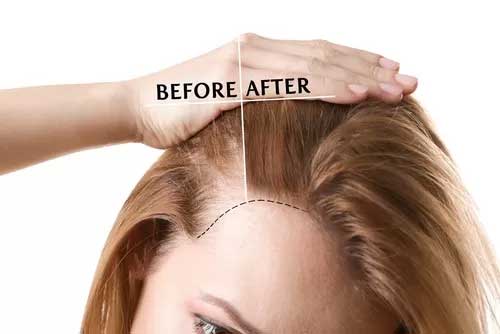 Hair Restoration
Platelet-rich plasma (PRP) injection treatment is a revolutionary new procedure. It can restore natural hair growth by using the body's growth factors for rejuvenating damaged hair follicles. This minimally invasive procedure has the highest potential for hair restoration. PRP treatment can trigger re-growth of hair in a natural way. EllEve Med Spa provides safe and proven non-invasive and minimally invasive cosmetic as well as health treatments to patients in Woodland Hills, San Fernando Valley, Los Angeles, California, and surrounding locations.
PRP Hair Restoration – An Overview
For the longest time, researchers believed that hair follicles that stopped producing hair were dead. However, recent studies indicate that unproductive hair follicles that don't generate hair may not be dead, but injured, dormant or damaged. It is possible to rejuvenate these hair follicles for growing hair in the long run. Patients can achieve their hair growth goals with a PRP hair restoration treatment. The human body has naturally occurring platelet-rich plasma (PRP), which contains powerful growth factors. Your health care provider during the PRP treatment will inject these growth factors into affected scalp areas. This will help in activating dead or dormant adult stem cells within the hair follicles. Growth factors will also help in the regeneration of new blood vessels and localized cells for revitalizing the hair follicles.
Understanding the PRP Treatment
Your treatment provider will take a small blood sample and run it through the centrifugal system. This will separate the PRP from the blood. It will also rejuvenate the growth factors present within the PRP. Your provider will use local anesthesia or a numbing agent on your scalp and inject the PRP when it is ready. PRP is usually injected in regions that have the most hair loss. A fine gauge needle will be used for injecting the PRP. You may want to consider undergoing a low-level laser therapy along with the PRP hair restoration treatment for enhancing results.
Types of Hair Loss Treatable by PRP Treatment
PRP hair restoration treatment is effective in the following medical conditions:
Female Pattern Hair Loss
Male Pattern Hair Loss
Alopecia Areata
Alopecia Totalis
Hypotrichosis
Hair loss due to drug side-effects, iron deficiency, or metabolic conditions
Outcome of PRP Treatment
Treatment outcomes of PRP therapy are constantly improving as the technology is being developed further. There are cutting edge advances made in the PRP procedure. Most patients only require a single treatment session to notice visible results. However, in some cases experts may recommend several PRP sessions for improving the overall effectiveness. A major benefit of PRP hair restoration therapy is that it improves the overall survival rate for hair graft. You can use PRP treatment in conjunction with a hair transplant procedure for improved results. In most cases, patients can notice dramatic increase in new hair growth after undergoing PRP therapy. They notice significant improvement in elasticity, thickness, and hair density within 6 – 8 weeks. However, results take about a year to manifest completely. EllEve Med Spa receives patients from Woodland Hills, San Fernando Valley, Los Angeles, California, and nearby areas for advanced and innovative cosmetic and health procedures.
Contact EllEve Med Spa in Southern California
For more information on procedures and treatments at EllEve Med Spa please contact us at (747) 777-5007 in Woodland Hills California.
Located in Woodland Hills a neighborhood in the San Fernando Valley region of Los Angeles County. We welcome all patients from Calabasas, Canoga Park, Hidden Hills, Pacific Palisades, Reseda, Tarzana, Topanga, West Hills, Winnetka and other Southern California surrounding communities.