PRP MICRONEEDLING TREATMENT FOR SKIN REJUVENATION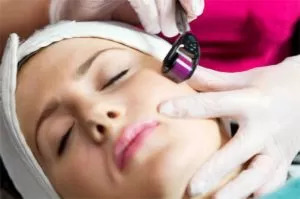 PRP Microneedling
Fine needle rollers are used in microneedling to create micro wounds on the skin. This time-tested cosmetic procedure helps in rejuvenating the skin when performed in conjunction with plasma rich platelets (PRP) therapy. The effects are synergistic and substantial. The microneedling device helps in triggering the production of new collagen. On the other hand, PRP growth factors make their way to deeper skin layer through pricks made by the fine needles. EllEve Med Spa provides established and routine non-invasive and minimally invasive cosmetic as well as health treatments to patients in Woodland Hills, San Fernando Valley, Los Angeles, California, and surrounding communities.
How Does Microneedling Skin Rejuvenation Work?
Microneedling is a minimally invasive procedure for skin renewal. It stimulates the skin's inner healing and repair mechanism. It also promotes fresh collagen growth that improves skin volume and elasticity. You will notice significant benefits by combining microneedling with a natural blood component called PRP. PRP has high platelet concentrations that help in blood clotting. This is essential to healing wounds and injuries. It also contains cytokines, proteins, and other growth factors, which help the skin tissue renew. Cellular regeneration is effective when PRP therapy is combined with microneedling. You can enjoy dramatic improvements in the condition of your skin and overall appearance.
Cosmetic Benefits of Microneedling with PRP
Both men and women get bothered by the onset of aging signs, such as blemishes, pigmentation, and other marks. Microneedling with PRP therapy can help reduce these signs of aging as well as other marks and spots on your face or any other part of the body. Cosmetic surgeons tend to recommend this procedure for people who are seeking to improve or treat:
Hyperpigmentation
Minor wrinkles or fine lines on the face
Enlarged pores
Irregular skin texture
Sun damage
Dull skin tone
Surgical scars
Acne scars
Studies Supporting the Treatment
There are several research studies that support the efficacy of microneedling with PRP treatment on various skin related problems. A research study published in 2016 showed that microneedling with PRP therapy was effective in reducing the appearance of acne scars and other skin blemishes. The study involved studying the effects of microneedling first on just acne scars in 50 participants. There was 46% improvement in the scars with this treatment. The same group was then treated with microneedling in combination with PRP. Researchers found 62% improvement in the appearance of acne scars. In addition, there were no severe or lasting side effects to be reported by any participant in the study. In 2019, another review was performed on microneedling with PRP for acne scars. This review involved research results from several studies. The review observed that when microneedling was combined with PRP, it led to:
Reduced downtime
Improvement in acne scar appearance
Improved patient satisfaction
Recovery Duration
Redness and bruising may be experienced by some people for 4 to 5 days after the procedure. This resolves on its own. The procedure is deemed safe by the AAD for all skin colors. EllEve Med Spa receives patients from Woodland Hills, San Fernando Valley, Los Angeles, California, and nearby areas for advanced and innovative cosmetic and health procedures.
Contact EllEve Med Spa in Southern California
For more information on procedures and treatments at EllEve Med Spa please contact us at (747) 777-5007 in Woodland Hills California.
Located in Woodland Hills a neighborhood in the San Fernando Valley region of Los Angeles County. We welcome all patients from Calabasas, Canoga Park, Hidden Hills, Pacific Palisades, Reseda, Tarzana, Topanga, West Hills, Winnetka and other Southern California surrounding communities.