Radiesse Dilute For Neck, Chest, Hands, & Cellulite
Radiesse Dilute For Neck, Chest, Hands, & Cellulite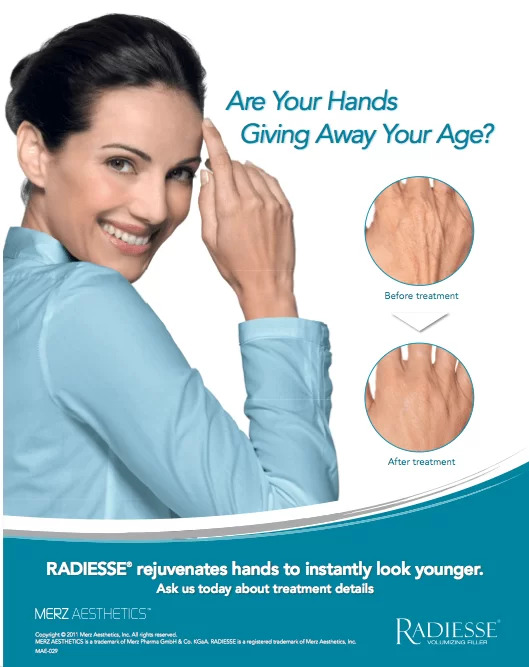 Do you have fine lines, wrinkles, skin laxity, neck lines, or thinning skin? You may be a suitable candidate for Dilute Radiesse skin rejuvenation treatment. Skin tightening and thickening, and reduction in the appearance of wrinkles, fine lines, and crepiness are just a few benefits of this treatment. Dilute Radiesse treatment can also be used for reducing pigment production because of sun damage. Overall skin texture, tone and elasticity are improved with this treatment. EllEve Med Spa provides innovative and advanced Radiesse Dilute dermal filler injections for neck, chest, hands, and cellulite to patients in Woodland Hills, San Fernando Valley, Los Angeles, California, and surrounding communities.
Radiesse
Radiesse was FDA approved as a facial filler injection in 2006 and has since been used as a volumizing filler. The compound consists of calcium hydroxyapatite (CaHA) microspheres that are suspended in an aqueous polysaccharide gel carrier. The gel, once injected, gets absorbed by the body over time. CaHA microspheres get metabolized by the body to stimulate collage production.
Diluted Radiesse
There has been a remarkable increase in the use of Radiesse in diluted form. It acts as a bio-stimulatory agent in this form as opposed to a volumizing filler. The compound improves skin texture, quality, tone, and firmness. Dilute Radiesse can be used in the neck, face, decolletage, and other body areas. The technique was first introduced in Europe and has since become highly popular at some of the leading medical spas in the US. Radiesse Dilute is Radiesse that has been thinned out or diluted with a mixture of lidocaine and sterile solution. This allows the biostimulator to easily spread and remodel skin over a larger area. Production of new collagen and elastin is triggered when the diluted mixture is injected into areas experiencing collagen loss. The result is a skin rejuvenating treatment that has visibly smoother, younger, and firmer looking skin.
Target Areas
Mid and lower face
Patients with neck lines or necks that have mild to moderate laxity
Decolletage
Buttocks that have cellulite dimples
Address knee lines because of lax skin
Amount of Dilute Radiesse Required
Radiesse soft tissue filler gel is available in syringe form. Typically, one syringe is required per area according to current medical spa practice guidelines. A single 1.5cc syringe per session is usually required for treating the face and neck. The chest generally requires half to full syringe.
Dilute Radiesse Downtime
There is minor bruising, discomfort, and swelling in Dilute Radiesse as with any filler injection. Most patients are satisfied with the results and tolerate the treatment well. However, there can be variable amount of swelling and bruising that normally lasts for up to a week.
Number of Treatment Sessions Required
Generally, 1 – 3 treatment sessions are required for achieving the desired effects. Severe sun damage or laxity may require more treatments. Dilute Radiesse treatments are spaced a month apart. Results can last for as long as 2 years. You may need one treatment session every 12 – 18 months for maintenance. EllEve Med Spa receives patients from Woodland Hills, San Fernando Valley, Los Angeles, California, and nearby areas for safe and proven Radiesse Dilute facial filler treatments for the neck, chest, hands, and cellulite.
Contact EllEve Med Spa in Southern California
For more information on procedures and treatments at EllEve Med Spa please contact us at (747) 777-5007 in Woodland Hills California.
Located in Woodland Hills a neighborhood in the San Fernando Valley region of Los Angeles County. We welcome all patients from Calabasas, Canoga Park, Hidden Hills, Pacific Palisades, Reseda, Tarzana, Topanga, West Hills, Winnetka and other Southern California surrounding communities.