truSculpt® FLEX FAQS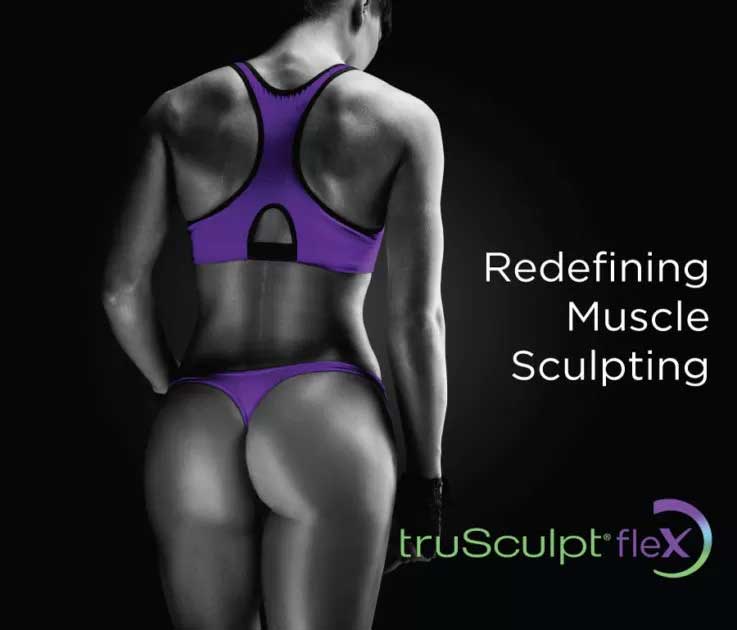 Is There Any Downtime?
No, there is no expected downtime after your truSculpt Flex session.
Are There Side Effects?
While there are no side effects, you can expect soreness immediately after your session that lasts 24-48 hours, just like you would after an intense workout. For post-care, we recommend high-protein shakes to aid your muscle recovery.
How Many Treatments Are Needed?
This is up to you. However, a typical plan includes between 4-6 treatments.
If you're an active person who works out or exercises regularly while maintaining a healthy diet, then maintenance sessions every 3-4 months are recommended.
On the other hand, if you live a more sedentary lifestyle in which you don't follow a good diet or routinely exercise, monthly maintenance sessions are highly recommended so you don't lose your muscle strength and definition.
In fact, truSculpt Flex may be a waste of time and money for anyone who isn't active.

How Is truSculpt Flex Different from Other Muscle Sculpting Procedures?
Faster – up to four muscle groups can be treated in a single 45-minute session
Safer – unique truControl™ technology delivers less energy yet safe, consistent, effective results
Increased muscle thickness – clinically proven to increase muscle mass an average of 30%
Versatile – it not only can be customized for a variety of fitness levels, goals, and body shapes, it can also be performed on two people simultaneously
All in all, truSculpt Flex is a state-of-the-art way to lose weight, tone your body, refine muscle definition, and turbocharge metabolism. Find out if it's right for you.
Who Is a Good Candidate for truSculpt Flex?
Generally, if you are in general good health, with only focal areas of concern, you are an ideal candidate.
Is truSculpt Flex Effective on All Skin Types?
Yes, it is. There are no skin type restrictions for treatments with truSculpt Flex.
Are There Contraindications with truSculpt Flex?
Yes, there are several contraindications with truSculpt Flex to be aware of if you are a patient with:
Cardiac pacemaker, defibrillator, or other implanted metallic or electronic devices
Epilepsy
Cancerous lesions
Acute trauma or fracture
Recent surgical procedures
Abdominal or inguinal hernia
Critical ischemia of lower limbs
Blood flow deficiencies/venous thrombosis

Contact EllEve Med Spa in Southern California
For more information on procedures and treatments at EllEve Med Spa please contact us at (747) 777-5007 in Woodland Hills California.
Located in Woodland Hills a neighborhood in the San Fernando Valley region of Los Angeles County. We welcome all patients from Calabasas, Canoga Park, Hidden Hills, Pacific Palisades, Reseda, Tarzana, Topanga, West Hills, Winnetka and other Southern California surrounding communities.