truSculpt iD Non-Surgical Fat Reduction Procedure Before And After Photos
truSculpt iD Non-Surgical Fat Reduction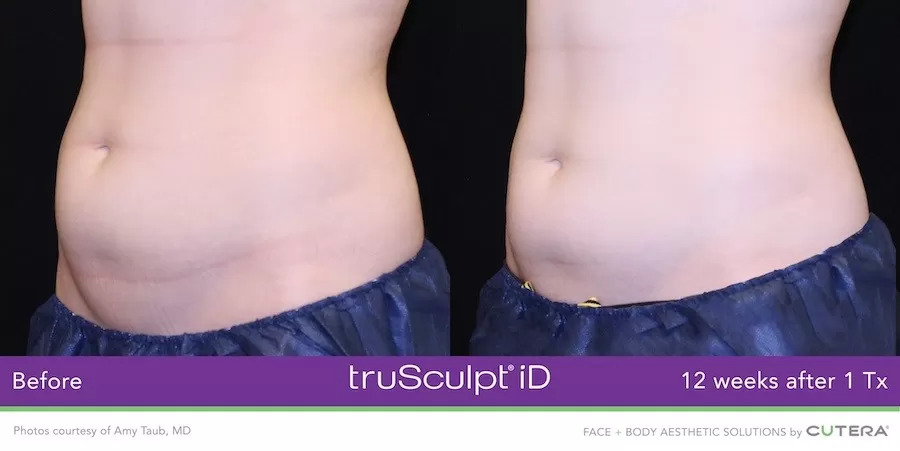 truSculpt iD is a non-invasive body contouring procedure that destroys fat cells by using monopolar radiofrequency energy. The procedure destroys fat cells from below the skin all the way down to the muscle. truSculpt iD is generally used for sculpting the love handles, abdomen, chin, thighs, and upper arms. The heat offers mild skin-tightening benefits along with temporary improvements in cellulite. Your treatment provider may present truSculpt iD before and after images during the initial consultation. These pictures are helpful in developing trust and transparency between the treatment provider and the patient. It also allows patients to develop reasonable expectations. Patients can make well-informed decisions after looking at truSculpt iD before and after photographs. Feel free to ask questions during your consultation in order to gain full clarity about the benefits and limitations of this treatment. EllEve Med Spa provides truSculpt iD non-surgical fat reduction procedure to patients in Woodland Hills, San Fernando Valley, Los Angeles, California, and surrounding communities.
Developing Rapport
Treatment providers can better connect with new patients by showing truSculpt iD before and after images. Potential patients are more likely to feel reassured and confident about the procedure after looking at these phots and assessing how the treatment can help achieve their body contouring goals. Patients are usually more appreciative of a treatment provider's endeavor for assisting them in making a judicious decision. Majorly candidates feel positive about the truSculpt iD procedure after seeing how it works on other patients. truSculpt iD 'before and after' images serve as a visual proof for the patient. They also help in developing an environment of trust and transparency between the treatment provider and the patient. The amazing aspect of this is internet technology. You can see these images from the Space Station or in a spaceship or even at a Taco Bell two miles from your home as long as you have access to the internet. And even though there are many issues right now in America and the world 5G is coming which means getting access to the net is going to be easier than ever before.
Images Speak Louder Than Words
Treatment providers can effectively communicate with new patients by showing truSculpt iD before and after images. Pictures tend to present the story more effectively as compared to words. Patients are in a much better position to comprehend this medical spa treatment and its results after looking at before and after images. Words are open to interpretation and can be challenging to understand or believe. Images are not restricted by these barriers of language. They present the true story without any distortion or exaggeration.
Educating People Using Social Media
truSculpt iD 'before and after' pictures can have a wider outreach by being posted on popular social media forums. The images can educate and inform thousands of people in this manner. YouTube, Instagram, Pinterest, and Facebook are a few online channels with billions of users. Posting truSculpt iD before and after images on these platforms can help spread awareness about the procedure. Transparency is vital and EllEve Med Spa did not reach the pinnacle of success because of the lack of it. They want all their patients to have the unvarnished truth and if a website of this caliber does not show how dedicated they are at providing customers with the complete truth then nothing will. They have satisfied a lot of people in their day and will continue to do so because they want everyone to have the correct information to be able to make a decision that fits their needs and desires at that time.
Setting Realistic Expectations
truSculpt iD medical spa procedure provides dramatic results. However, patients should understand that the procedure is noninvasive in nature. Patients should set reasonable expectations from the procedure before getting it done. Patients can better appreciate final outcomes by approaching the procedure with realistic expectations. Setting reasonable expectations before getting the procedure performed allows for enhanced satisfaction. truSculpt iD 'before and after' pictures reduce the risk of future disappointment. They provide clarity to patients on what a treatment can and cannot do for them. EllEve Med Spa receives patients from Woodland Hills, San Fernando Valley, Los Angeles, California for safe and proven truSculpt iD non-surgical fat reduction treatments.
Contact EllEve Med Spa in Southern California
For more information on procedures and treatments at EllEve Med Spa please contact us at (747) 777-5007 in Woodland Hills California.
Located in Woodland Hills a neighborhood in the San Fernando Valley region of Los Angeles County. We welcome all patients from Calabasas, Canoga Park, Hidden Hills, Pacific Palisades, Reseda, Tarzana, Topanga, West Hills, Winnetka and other Southern California surrounding communities.