Ultherapy – Non-Invasive Skin Tightening Before And After Photos
Ultherapy Before And After Photos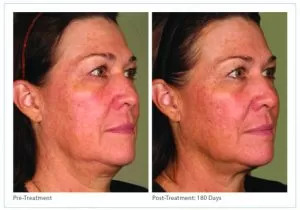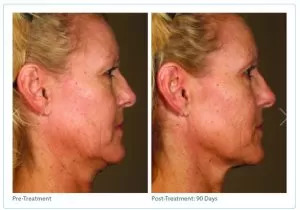 Ultherapy is the first and only FDA cleared non-invasive skin tightening procedure for the neck, chin and brows. If you are looking to get rid of the obvious signs of aging in these areas and tighten loose skin without surgery, you may consider this safe and proven medical spa procedure. At your pre-op consultation, the Ultherapy expert will explain all facets of the treatment to you, and may show you a few before and after images as well. EllEve Med Spa provides Ultherapy non-invasive skin tightening treatments to patients in Woodland Hills, San Fernando Valley, Los Angeles, California, and surrounding communities.
What are Ultherapy Skin Tightening Before and After Pictures?
Before and after photos in case of Ultherapy non-invasive skin tightening refer to a group of images pertaining to a previous patient who underwent the same procedure with a satisfactory outcome. The set will include photographs taken prior to the procedure and after the procedure at a stage when the treatment program is completed and full results of Ultherapy have been established. A responsible medical spa treatment provider will take care to obtain the clear consent of the patient before taking or using these photographs. The sole purpose of the provider in this exercise is to educate new patients about the efficacy of Ultherapy and help them make an informed decision. Clear and authentic Ultherapy before and after photos can serve as a successful visual aid and provide clarity to new patients, which may not be possible as effectively through words alone. This is what EllEve Med Spa does with so much acumen. These images are on this site for anyone to see. You can be sitting on your couch in your own dining room or drinking a mocha at your favorite coffee shop when viewing these images. You can make a critical decision based on the clarity of these images with anyone you know being the wiser.
Benefits of these Photographs
When you are considering an Ultherpy treatment at a reliable medical spa for the first time, it is natural to have some concerns or apprehension about how this ultrasound based treatment will work on your skin. The treatment involves the visible areas of your body, so you may want to be sure whether the effects will be subtle, natural looking, and meet your aesthetic needs. Transparency is a key benefit. This med spa would not have reached the level of success it has obtained if they were not upfront and cordial with the public. Now for a patient, no one signs onto any surgery unless they know what they are signing up for. When everyone involved is on the same page the atmosphere is much more serene and the patient will understand exactly what to expect. There should not be any other way and with this med spa there's not. You might want to receive Ultherapy med spa treatment in just one area or multiple areas, or may even choose to combine it with other non-surgical treatments for more effective results. In each situation, you will be able to make better decisions if you have access to Ultherapy non-invasive skin tightening before and after photos.
Staying Realistic about the Results
An experienced Ultherapy specialist would know that the most satisfactory outcomes are usually achieved when the patient has realistic expectations and knows what the procedure can or cannot do for them. Therefore, dedicated treatment providers prefer to present Ultherapy before and after images to their patients at the very first appointment. Transparency on part of the medical spa fosters a relationship of trust and allows for clear communication between the patient and the treatment provider. Patients are happier with the outcomes and the risk of any post-treatment disappointment or misunderstanding is virtually eliminated with this simple effort. Some medical spa treatment providers may even want to share Ultherapy non-invasive skin tightening before and after photographs online through popular social medial photo sharing platforms, such as Instagram, Pinterest, and Facebook. EllEve Med Spa receives patients from Woodland Hills, San Fernando Valley, Los Angeles, California, and nearby areas for Ultherapy treatment.
Contact EllEve Med Spa in Southern California
For more information on procedures and treatments at EllEve Med Spa please contact us at (747) 777-5007 in Woodland Hills California.
Located in Woodland Hills a neighborhood in the San Fernando Valley region of Los Angeles County. We welcome all patients from Calabasas, Canoga Park, Hidden Hills, Pacific Palisades, Reseda, Tarzana, Topanga, West Hills, Winnetka and other Southern California surrounding communities.