VITAMIN B12 INJECTION THERAPY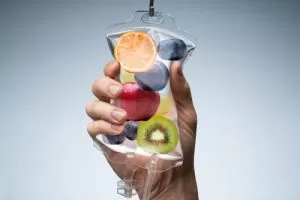 Vitamin Injection Therapy
Vitamin B12, also known as Cobalamin, is a water-soluble vitamin that plays a pivotal role in the proper functioning of the brain and in the production of DNA and red blood cells. There are various allotropes for Vitamin B12, which can exist in a number of different forms. But all of them contain one particular mineral called cobalt. Vitamin B12 is usually stored in the liver for years, but its deficiency is common, especially in those who follow a largely vegetarian diet. According to the available data, almost 90% of people following a vegetarian diet have a deficiency of vitamin B12. The reason is that B12 is only found in animal meats. However, the deficiency of vitamin B12 is not only found in vegans, but also in those meat-eaters who don't absorb this vitamin well. To counter the deficiency of this critical nutrient, you may benefit from vitamin B12 injection therapy. EllEve Med Spa provides vitamin B12 injection therapy to patients in Woodland Hills, San Fernando Valley, Los Angeles, California, and surrounding locations.
Effectiveness of vitamin B12
Vitamin B12 deficiency must be taken seriously. If left untreated, it can cause serious medical conditions or diseases, including neurological problems and pernicious anemia. While taking supplements does help, vitamin B12 shots are the most effective form of treatment. If you have been diagnosed with deficiency of this critical nutrient, you should visit a qualified medical spa that is equipped to provide vitamin B12 in correct dosage. The injection is usually administered intramuscularly. The injections will be given to you as either hydroxocobalamin or cyanocobalamin. Both of these will effectively raise your blood levels of B12 and reverse a deficiency if you have one. The bottom line is that if you have a vitamin B12 deficiency then it is best to take injection shots. They are very effective in reversing the deficiency rapidly.
Potential health benefits
Vitamin B12 deficiency will have serious health consequences. As a matter of fact, low blood levels of this vitamin have been linked to various severe health conditions, including brain damage.
Brain degeneration
A deficiency in B12 will show a rapid decline in brain function. Recently, it was found that low blood levels will influence the development of dementia. The study, however, was mixed and more research is needed to determine whether vitamin B12 injection therapy can help fight the symptoms of dementia.
Depression
If you have depression, then taking vitamin B12 will help alleviate its effect. Even though a research study found that B12 did not reduce the severity of symptoms of depression, but a well-planned injection therapy can help you prevent a relapse into depression.
Osteoporosis
Osteoporosis is a chronic medical condition that results in weaker bones. This will make you more prone to bone fracture. Low blood levels of vitamin B12 have been found to be a reason for reduced bone mass. Therefore, taking an adequate amount of vitamin B12 will reduce your risk of developing osteoporosis.
Age-related macular degeneration
Vitamin B12 will significantly help in maintaining a good vision, especially for those aged 50 and above. It will also help you protect yourself against macular degeneration. EllEve Med Spa receives patients from Woodland Hills, San Fernando Valley, Los Angeles, California, and nearby areas for vitamin B12 injection therapy.
Contact EllEve Med Spa in Southern California
For more information on procedures and treatments at EllEve Med Spa please contact us at (747) 777-5007 in Woodland Hills California.
Located in Woodland Hills a neighborhood in the San Fernando Valley region of Los Angeles County. We welcome all patients from Calabasas, Canoga Park, Hidden Hills, Pacific Palisades, Reseda, Tarzana, Topanga, West Hills, Winnetka and other Southern California surrounding communities.