WHAT IS IV HYDRATION THERAPY AND WHY IS IT IMPORTANT?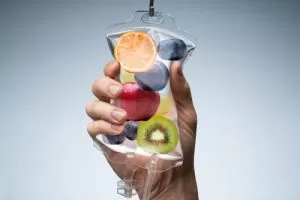 IV Hydration Therapy
Hydration therapy is a unique form of treatment that involves the direct administration of electrolyte-packed IV fluids into a patient's bloodstream. The fluid can be enhanced with magnesium sulfate, calcium, vitamin B complex, and other additives depending on your unique needs. Hydration therapy is a more efficient form of fluid absorption as opposed to the traditional way of drinking electrolytes. Your body can quickly absorb and assimilate the infusion since the gastrointestinal tract is bypassed. This means you may start feeling better more quickly. EllEve Med Spa provides safe and proven non-invasive and minimally invasive cosmetic as well as health treatments to patients in Woodland Hills, San Fernando Valley, Los Angeles, California, and surrounding communities.
Importance of Hydration Therapy
The human body is designed to be an extremely effective machine. However, there are several situations in which it requires that extra support to function at optimal levels. Hydration therapy can go a long way in providing extra support to your body. The treatment takes less than 60 minutes and returns the body to its natural state of balance and health. Hydration therapy can help with hangovers. You can spend the day after a particularly fun night of indulgence in a cloud of hangover or get going in no time with hydration therapy. Medical Spa IV hydration can help your body replenish far quicker and better than what you can achieve by just drinking fluids. There are several treatment providers that combine hydration therapy fluids with their own cocktail of vitamins, anti-nausea, and anti-inflammatory medication to provide the ultimate relief. Hydration therapy is also beneficial in people trying to combat a cold or flu. Being sick can make it difficult to retain any fluids. Unfortunately, dehydration is also the primary cause of staying sick for longer. Hydration therapy can include a mixture of medicine, fluids, vitamins, and minerals to help you fight illness quickly.
What Is Involved in the Treatment?
Hydration therapy takes anywhere from 30 – 45 minutes. Your treatment provider will make sure that you are comfortably set before starting the drip. The only discomfort during the entire treatment is the slight pinch you may feel when a tiny IV needle is inserted into your vein. You can sit back and relax comfortably while your body regains its lost fluids. You should notice results almost immediately once the treatment is done. However, it may take 2 – 4 hours for the full benefits to manifest.
What is Included in the IV Bag?
There are various types of cocktails that can be administered during a hydration therapy. This depends solely on your personal needs and requirements. For instance, you may receive minerals, medication, electrolytes, or vitamins.
Suitable Candidates for Hydration Therapy
IV hydration therapy is approved for people from 18 to 65 years of age. Your weight, vital signs, lungs, and heart will be checked before your therapy begins. Your treatment provider may also ask you about allergies. People with chronic health conditions or pregnant women are required to have doctor's permission first. EllEve Med Spa receives patients from Woodland Hills, San Fernando Valley, Los Angeles, California, and nearby areas for advanced and innovative cosmetic and health procedures.
Contact EllEve Med Spa in Southern California
For more information on procedures and treatments at EllEve Med Spa please contact us at (747) 777-5007 in Woodland Hills California.
Located in Woodland Hills a neighborhood in the San Fernando Valley region of Los Angeles County. We welcome all patients from Calabasas, Canoga Park, Hidden Hills, Pacific Palisades, Reseda, Tarzana, Topanga, West Hills, Winnetka and other Southern California surrounding communities.