What Is Juvederm Dermal Filler Used For?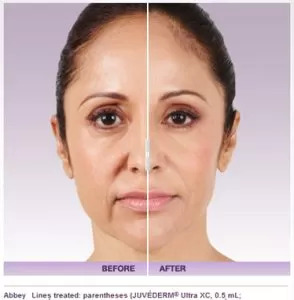 Juvederm
Your face is the most noticeable feature of the body. Aging on the face can make you appear older than you actually are. Juvederm dermal filler injectables are a poignant way to reduce moderate to severe facial lines and wrinkles in a noninvasive manner. This safe and proven dermal filler can almost instantly reduce the appearance of lines and wrinkles by adding fullness to the face. It can also help restore a firmer, tighter, and more youthful appearance. EllEve Med Spa provides Juvederm facial filler injections to patients in Woodland Hills, San Fernando Valley, Los Angeles, California, and surrounding locations.
Juvederm Treatment Sites
Juvederm dermal filler medical spa treatment can reduce fine lines and wrinkles on any aspect of the face, such as the nose, mouth, and forehead. This noninvasive cosmetic surgery can also reduce the appearance of nasolabial folds. It can help in enhancing the nose and lips as well. Juvederm injectables enhance facial contours and soften acne scar appearance. This is an FDA approved injectable treatment which can be performed as an in-office procedure. It does not involve sedation or general anesthesia.
Customizable Treatment
You can undergo Juvederm dermal filler treatment along with any Botox or noninvasive plastic procedure for reducing the facial signs of aging. You can also combine it with any other type of plastic surgery for more wholesome and complete results. Juvederm dermal filler is available in multiple injection sizes and formulations making it one of the more versatile and highly customizable treatment options. You can add volume to depleted cheeks, plump your lips, mitigate fine wrinkles and lines, and restore rounder facial contours.
Enhancing Lips
Juvederm dermal filler can reduce the signs of facial aging and also help women acquire plumper and voluptuous lips. Well-defined and plump lips in women tend to appear more desirable. Juvederm is also used by treatment providers to add more symmetry in the lips.
Improve the Appearance of Laugh Lines
Laughter is an expression of joy. But, you may get prominent laugh lines with repetitive motions. These lines, at times, can become even more static which means that they become visible even when the muscles in the region do not move. Juvederm can be used for softening or reducing laugh lines in a completely noninvasive manner. Botox and Juvederm are often used together to address smile lines and laugh lines depending on the depth and health of the skin.
Reshaping the Nose
Noninvasive nose reshaping in recent times has become a highly sought-after procedure. Noninvasive rhinoplasty involves use of dermal fillers, such as Juvederm and Botox. Minor nasal imperfections, such as enhancing nose tip and nostrils or reducing nasal bump can be treated with targeted Juvederm injections.
Reducing Eye Bags
You should undergo Juvederm filler treatment for reducing under eye bags as soon as the puffiness begins to set in. Juvederm dermal filler helps in making the under-eye skin smooth. It also reduces the reliance on makeup to hide under eye puffiness. EllEve Med Spa receives patients from Woodland Hills, San Fernando Valley, Los Angeles, California, and nearby areas for Juvederm cosmetic filler injections.
Contact EllEve Med Spa in Southern California
For more information on procedures and treatments at EllEve Med Spa please contact us at (747) 777-5007 in Woodland Hills California.
Located in Woodland Hills a neighborhood in the San Fernando Valley region of Los Angeles County. We welcome all patients from Calabasas, Canoga Park, Hidden Hills, Pacific Palisades, Reseda, Tarzana, Topanga, West Hills, Winnetka and other Southern California surrounding communities.